RED STAR 1 CHANTILLY 1 (1-1)
Saturday 17th August 2002
Goals : Sylla (88 pen) – Bienfait (28 pen)
Booked : Deom (26), Sylla (84) - Devipart (49), Kaddour (82), Bienfait (90) Sent off : Marques (80), Sylla (90)
Attendance : 100 – referee : M. Gatefin
RED STAR : Néret, Cossec, Carles (Marques 64) R. Deom, Budoc (cap.), Delaneuville (Mouflard 89), Botoko (Doceul 38), Hamdane, Doumbya, Sahridj, Sylla. Coach: M. Ousfane.
CHANTILLY : Lefranc, Farandeau, Dos Santos, Bienfait, Devipart, De Wolf (Tchakouté 25), Gobinet, Guichard, N'Gamboli, Aouni (Kaddour 47), J. Fastiggi. Coach: A. Ademi.
ONE TO FORGET
If nothing else, one is treated to entertainment at Marville these days. Perhaps less so in pure footballing terms, but entertainment nevertheless. Most of it was only really suitable for an adult audience, above all the touchline fracas and the tackle of Philippe Marques which merited a red card.
From the outset Red Star admittedly looked the better of the two sides. But, as is usually the case with the home side, pressure but no result. Consequently it came as no real surprise when the visitors took the lead on the half hour. A lofted cross into the penalty area looked harmless enough, but under pressure from a Chantilly player, home goalkeeper Néret dropped the ball, and in trying to regain posession was adjudged to have brought down the Chantilly striker. Penalty, duly converted by the appropriately named Bienfait (well-done).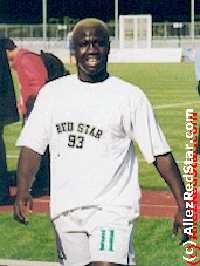 The game then stagnated into a ten-man defensive Chantilly, relying on the odd break, against Red Star with some good moves but as often as not a poor final ball or erratic passing. Deom and Delaneuville both guilty of this. In defense, rarely threatened Red Star appeared solid enough, apart from Cossec who lost posession a couple of times, fortunately these went unpunished. Chantilly had the best chance with a quarter of an hour left, but the forward sliced his shot well wide of the post.
Things came to a head with around ten minutes left. Marques, a striker on for full-back Julien Carles was late in a tackle on a Chantilly player, which left his victim writhing in agony. Red card, and Red Star reduced to ten men. On the touchline, a fracas then ensued between two of Red Stars' club officials one one side opposed to the pressman from Le Parisien newspaper.
Once this had settled down, Red Star continued to press and it took a rare acceleration from Doumbya to make the difference. Brought down in the box, the Red Star striker handed the chance to SYLLA (photo) to level the scores from the penalty spot, despite the Chantilly 'keeper getting a hand to the ball. Moments later a stupid incident resulted in Sylla, who admittedly had been the home sides' most enterprising player, recieving a second yellow card, and an early bath. No further incidents and the game ended in a draw.
It's going to be a long hard slog for Red Stars' youngsters, some of which had no answer for Chantillys' experience in the CFA 2. The goalkeeper on a couple of occasions made the spectators panic; Rémy Deom was at times mute, but his partner Delaneuville looked better; captain Budoc looked composed in central defence, but the attack of Chantilly wasn't up to that much. Sylla was the most dangerous Red Star attacker, but was too often guilty of hanging on to the ball instaed of shooting or passing the ball to a better-placed player. Must do better.
© AllezRedStar.com 2002