Friendly Matches

Championship, Division 2

WASQUEHAL, Parc Marville 08/08/1998
AS Cannes, Stade Pierre-de-Coubertin 15/08/1998
Le Mans, Stade Leon-Bollé 29/08/1998
BEAUVAIS, Parc Marville 04/09/1998
Troyes, Stade de l'Aube 12/09/1998
NÎMES, Parc Marville 19/09/1998
LILLE, Parc Marville 03/10/1998
OGC NICE, Parc Marville 17/10/1998
AC AJACCIO, Parc Marville 04/11/1998
CHÂTEAUROUX, Parc Marville 11/11/1998
AS CANNES, Parc Marville 02/12/1998
LE MANS, Parc Marville 12/12/1998
Beauvais, Stade Brisson 16/12/1998

League Cup
Red Star unveiled their temporary home at Parc Marville to a crowd of around five hundred, mostly invitees from the business community. In a bid to promote the club to potential investors, President Jean-Claude Bras and his team of directors launched a campaign of awareness. On the pitch, Red Star dominated the match against Division Two rivals Amiens, creating a series of good chances, none of which were taken until the second half when Guilhermo MAURICIO beat the offside trap to fire the Audoniens into a deserved lead. Minutes later, following good work by Karim Fellahi, Aziz BELLISAOUI doubled the lead.
Of the players on view, outstanding performances came from Jean-Yves De Blassis who ran tirelessly from right back, goalkeeper Stéphane Lucas pulled off some excellent saves and appeared confident with crosses; substitute Florian Albert, the Hungarian from Ferencvaros was a strong runner from midfield and Ted Agasson has lost none of his subtle skills. Coach Jean Sérafin will be pleased with the performance against a physically strong Amiens side who defended in depth and relied on long balls and counter-attacking to threaten the home defence.
As for the stadium, the main stand is a long way from the action, the roof offers a little protection from the elements, but time will tell how effective the temporary stands which cover the other three sides are.
They came, they saw, then went back home with the point that they had come in search of. Defending with all eleven men behind the ball at some stages, Wasquehal succeeded in stifling the attack of Red Star in order to earn a 0-0 at Marville. Agasson ran strongly, Joël André battled hard but the proof in the pudding came in that Samuel Michel had only one clear-cut chance all night. By contrast, the Nordists were equally clueless in attack, and with the few chances they did manage to create, they only succeeded in making the ball-boys sweat a bit. In the dying seconds of the match, Lucas and Diawara did attempt to gift a goal to the visitors, but the chance went begging, high and wide into the Saint-Denis evening. The home supporters had to wait until the fiftieth minute before Michel lost his shadow and fired across the face of the goal, and apart from that didn't have that much to cheer about. In short, one point gained for Wasquehal, but more importantly two lost for Red Star.
A crowd of only 1500, not much of an atmosphere, but Cannes will have to get used to this; besides, there wasn't that many more when the club was in Division One last season.
Both teams got off to a sluggish start, and the match was evenly balanced. The first two real chances fell to Red Star, Bonora in particular testing home 'keeper Chabbert, but Cannes took the lead, Boutobba neatly flicking a header on for Libbra to ram the ball home. Straight from the restart, the visitors were awarded a penalty as Assignon pulled down CRUCET. The Audonien picked himself up and converted the spot kick to bring the scores level. Shortly afterwards, Balde, the home centre half took an early bath following an elbowing incident.
In the second period, Cannes dominated, Libbra heading just wide. The referee, M. Anton then made his presence felt by dismissing a second Cannes defender, Vannuchi receiving his marching orders thus reducing the home side to nine. Red Star pressed, trying to take advantage only to find the Cannes goalkeeper in fine form. Samuel Michel found himself frustrated by the save of Chabbert, and other chances went begging.
The second half thus provided the spectacle of irresponsibility by the Cannois and a lack of finishing prowess by the visitors.
Voilà. The first few matches are always tough, though...
Romain Campora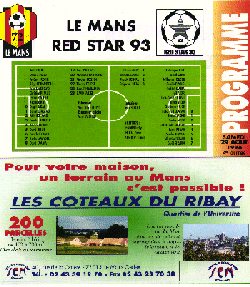 Victory snatched from the jaws of defeat is the summary of this match. With only ten minutes remaining of a games which they had largely dominated, Red Star pulled off an astonishing escape act to return from the Sarthe with maximum points.
The match had started off brightly, both sides wasting good opportunities, and the status quo persisted. Lucas in the visitors' goal pulled off a remarkable save to deny Reginald Ray, then Gueret at the other end was called into action, saving well from Michel.
Red Star were defending well, and it took a very special goal to break the deadlock. With twenty or so minutes remaining on the clock, Lucas found himself stranded out of his area and the speculative forty-metre lob of Revilles passed just under the crossbar and the home supporters celebrated. Red Star introduced Florian Albert for his debut, replacing the ineffective Fellahi, and Joël André gave his place to Fabien Valéri. With ten minutes remaining on the clock, Albert set up Samuel MICHEL, who turned in the box to rifle a crisp shot past the wrong-footed Gueret. Le Mans, who had attempted to retain their advantage by defending in depth, responded by pushing men forwards, and this left holes at the back. Mauricio, exploiting this sudden-found space was tripped just outside the penalty area when sent through by Valéri, and when the free kick was taken, Guillaume BOUISSET floated an inch-perfect left foot kick into the net, sending the tiny contingent of travelling Audonien supporters wild. His spectacular somersault celebrations merit a mention, too. In injury time, Agasson could have made it three, but in a one-on-one with the home goalkeeper the latter emerged victor. The referee added enough time for Le Mans to try to equalize, but Red Star held firm.
In short, a magnificent victory for Red Star, whom last season had collapsed to a 6-3 defeat here. Still undefeated, and the performance could very well be the catalyst for the dreams to commence.
Thanks to a combination of the rain, an accident on the A13 and Johnny friggin' Hallyday I missed the first two goals, but still managed to see five in a match with a nail-biting finish. As I paid my thirty francs, an almighty roar went up, and VALÉRI had apparently doubled the lead started by Sammy MICHEL. As the interval approached, Beauvais, the nearest thing to " local rivals " threatened, but MICHEL appeared to have put the game beyond their reach as he notched his fourth in three matches. But some indifferent defending resulted in Haise pulling one back with a bullet from twenty five yards, deflected past the wrong-footed Lucas.
After the break, with the rain still falling in stair-rods, Beauvais came close a couple of times, but it was Guillerme BOUISSET act two; his free kick being a replica of the one from last week, and his style of celebration was the same as last week, this time for the benefit of those who couldn't be arsed to go to Le Mans. Four one, but still plenty of life left in the match. Two minutes later, Beauvais were awarded a fictitious penalty following an alleged push by Oponga, and Raymond (or was it ex-Red Star player Bruno Roux ?) made no mistake from the spot. Crucet came on as sub, and squandered a couple of good chances, when with six minutes remaining, another dodgy refereeing decision gifted the visitors a free kick in a good position. Initially blasted straight at the wall, the referee generously demanded a re-take, presumably for encroachment, and this time Hagard (the Horrible ?) reduced the score to a flattering 4-3.
A good performance by the Red Star despite the apparently close scoreline, but in reality it should have been five or six one. The bonus is that Red Star are capable of tacking all meteorological conditions, even torrential rain couldn't prevent their style of flowing football. (c/f Nîmes home, last year)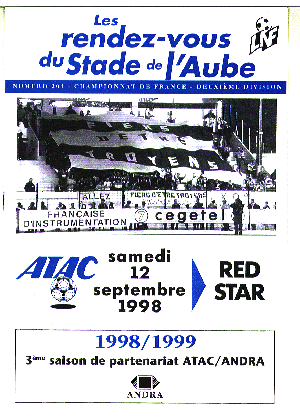 All good things have to come to an end, and thus did the unbeaten run of Red Star. Beaten 3-1 at Troyes, and in the process receiving a lesson in what it takes to be a promotion candidate. Troyes just about deserved it, but then again it might have been an altogether different story had Sami Michel not been denied by the home goalkeeper, and if Bonora had made more of the opportunity when at 0-0, said Troyen goalkeeper went walkabout, lost possession and his defence gave the ball away to Franckie.
The ref then did his bit, adding on enough time to ensure that Troyes took the lead on the stroke of half-time (Rivenet); this after he had given virtually every decision in favour of the home side, as well as ignoring the punishment meted out on Bonora by a brutal Troyen back four. The beautiful game as practised by Sérafins' men was stifled by the physical and uncompromising Troyes.
Troyes doubled their lead after the break (Rival), and as Red Star pushed forwards, Fred Darras was outpaced by Rivenet who rifled a low shot past Lucas to make it 3-0. In fairness, Red Star persisted and were rewarded when the tenacity of substitute Stéphane CRUCET paid off, his second goal of the season hammered past Weber the home goalie.
Troyes have what it takes to get out of D2, the stadium has been improved and despite being small provides a good atmosphere. Nearly seven thousand witnessed this one and a few more than usual made the two-hour trip up the A5 from Paris. If Troyes can continue with their good luck and a few more referees like the one from this evening, then they can very well look forwards to receiving the likes of Marseille and Bordeaux. Red Star, however have a bit of work to do. Agasson was ineffective, the midfield was overran and only Mauricio and perhaps Crucet can justify praise for their performances. Heads up, anyway, put this one behind and start again next week at the Marville against Nîmes.
Just like last season, Nîmes plundered maximum points from their long voyage north to the capital. Largely thanks to two gifts handed to them on a plate by the home defence. Quite simply, two awful errors, the first a collective one, the second a huge balls-up between Oponga and Lucas resulted in the first home defeat of the season.
Up from Bonora toiled against his ex-colleagues to no avail. Physically strong in defence, but relying in speed up front, Nîmes drew Red Star into their trap and struck. Despite a bright opening, with two good efforts from Sami Michel and Mauricio, Red Star seemed to withdraw into themselves before conceding the first goal right on the stroke of half time. After the break no change, and a second goal, Sakho adding to the earlier strike from Vosalho. Red Star toiled and toiled , but were rewarded with a superb turn-and-shoot from Sami MICHEL, his fifth of the season. The introduction of Albert and Mauricio yielded no real improvement and had it not been for some woeful finishing from the Nîmes attack in the dying seconds it could have been worse. Nearly three thousand, getting better, but as dreams of a place in the sun fade, it's time to start looking over the shoulder at that six point gap to the bottom.
This match had it all. Five goals, the CRS police wading into the crowd to pull someone out, the first cries of " resign, Sérafin " of the season, a missed penalty but above all Red Star sliding towards yet another defeat, and towards the nether regions of the league table. Twenty minutes gone, and Lille are awarded a free kick twenty metres out. The wall fails in its task, and Valois opens the score for the visitors (0-1). Ten minutes later, a hopeful cross from Fabien Valéri is handled in the penalty area by a Lille defender, but to the dismay of the crowd, Stéphane Crucet blasts his spot kick high over the bar. As half-time approaches, Lille double their lead when they become yet another team to break down the frail offside trap of Red Star and Valois runs past Lucas to make it 2-0 for the visitors. After the pause, Sami MICHEL notches his sixth of the season to reduce the deficit much as he did at Le Mans, turning and rifling home a crisp shot past Wimbee in the Lille goal (1-2). This sparks the home support into life, and the support temporarily lifts their favourites. However, Olivier Pickeu plays the party pooper and dampens spirits by grabbing Lilles' third goal and effectively putting the game out of Red Stars' reach (1-3). This is the catalyst which sparks off scenes reminiscent of seventies and eighties English terraces, with a hundred or so locals attempting to storm the enclosure holding the visiting supporters. The CRS intervene, and frog-march one supporter out of the ground. As tempers calm, Sami MICHEL pops up again to mark his second, but it's too late and the three points head north (2-3).
This was really a match which both sides could ill-afford to lose. Nice, propping up the table and Red Star only three points and a handful of places above them. Worse, Sammy Michel, centre forward and leading scorer in D2 sat in the stands as a result of an injury picked up at Saint-Etienne. Bonora had to lead the attack, supported by the unsettled Fellahi, and Mauricio. Despite a bright opening, chances going begging for Mauricio and Valéri, Nice took the lead after half an hour, when Red Star couldn't get the ball away, and Tchato rammed home a shot from twenty yards out with a hint of a deflection to deceive Lucas. Joy for the Niçois, cries of " Sérafin resign " and " Bras resign " from the terraces. Looking marginally the better side, Red Star deservedly drew level second before half time when Fellahi slipped past a defender, took the ball to the dead-ball line and his cross was swept in by MAURICIO.
After the break, Red Star continued from where they had left off, and dominated the early exchanges. However, as they attacked, Guion was dispossessed, and Nice took the lead with a beautifully executed move, finished off by Mane. Back came the cries for the heads of messrs Bras and Sérafin, but as happened against Lille, a section of the younger supporters of Red Star really got behind the team, and with ten minutes remaining on Mr Brés' watch, Stéphane Crucet, who had earlier replaced the fading Mauricio, drew the sides level again. Fellahi was hacked down by the right and from the resulting free-kick, Crucet rose majestically like a salmon at the far post to loop his header over Bruno Valencony. Relief for Red Star, but ecstasy five minutes later as Bouisset repeated his party trick and floated a free kick from the edge of the penalty area past the hapless Nice 'keeper. The ref added enough stoppage time to enable Manchester United to score at least five goals, but Bouisset saved the day again, clearing off the line to deny Nice an equaliser.
Karim Fellahi endeared himself to the Marville Faithful with a last-gasp equaliser to grab a deserved point for Red Star. In crashing home against Ajaccio, he spared the club from an ill-merited fourth home defeat. Earlier Camille Oponga, centre half committed a truly ghastly error to gift the hard-working Manu Petit lookalike and ridiculously unpronouncably named PRSO an opening goal with a quarter of an hour remaining.
Red Star, driven by a vociferous crowd squandered a hatful of golden opportunities, Mauricio, Diawara, Michel and Valéri being amongst the culprits. An upright denied Bouisset and the match looked to be settled until substitute FELLAHI, on for an ineffective Agasson, finally gave the home side what it had earned.
On the final whistle, Klein, the Ajaccio goalie (and a double for Oliver Kahn of Bayern) was left sitting with his back against his goalpost, no doubt stunned by Karims' wonderstrike. Suspect at times in defence, a pairing of Fred Darras and David Giraudo could be a more likely solution to the problem of leaking soft goals. Once again the strikers bail out Red Stars' defence - any chance of helping Jean-Claude Bras, I wonder ?.
Just as it seemed as if Red Star were heading towards a precious league victory over Châteauroux and three valuable points, a cruel own goal by captain Fred Darras stunned the home support. Not a classic match by all means, but all the excitement was compressed into the last ten minutes or so.
Earlier, Red Star squandered a hatful of chances, Valéri firing over, Bouisset rapping the upright and Michel coming out second best in a one-on-one with the away 'keeper. Eventually, Michel was replaced by Karim Fellahi, and this seemed to fire up the forwards. Mauricio, whose pace had caused all sorts of problems for the left side of the Châteauroux defence stormed off again, Agasson pulled away from his marker and on the penalty spot volleyed home a looping cross from Mauricio. Ecstasy for the Audonien faithful, super vociferous this evening. First goal of the season for Agasson, who had come in for a fair amount of stick earlier in the match.
M. Coué the referee then proceeded to add on an inordinately large slice of stoppage time, and in the dying seconds a hopeful cross from Mattieu Verschuere, by far the best of the Berrichons, was backheaded over the advancing Renaud by Darras, into the unguarded net. Two points lost, Red Star drop down one place.
Cor blimey, was it cold or what ? Never mind, the match was a cracker to warm up the spirits on a freezing December evening. Especially the second half, because the first forty five minutes failed to bring a save of note from either goalkeeper. Two free kicks to Red Star were wasted by Jean-Yves De Blasiis, firstly flipping the ball tamely into the hands of Chabbert then blasting a second effort from a similar position way over the bar. Red Star defended stubbornly, Bouisset concentrating more on a defensive role. Crucet toiled hard up front and Joël André had his best game for ages in midfield.
After the pause, Red Star were awarded a free kick on the halfway line; M. Lalu promptly reversed the decision and awarded the kick to Cannes as the was not stationary. Cannes pressed, Agasson failed to clear and the result the inevitable ball nestling in the back of Lucas' net from a shot by Chabaud. (0-1) However, the spirit of Red Star, encouraged once again by a vociferous crowd (only 1300 this time) reaped rewards as CRUCET turned neatly in the eighteen yard box to fire home past Chabbert. (1-1)
Things became hotter; Cannes wasted a glorious chance to wrap it up but Lucas saved bravely at the feet of an attacker. Minutes later he turned a fierce shot away for a corner and at the other end André fired over and in the dying seconds Crucet rapped the upright with a sweet volley. As it happened, the other results went in favour of Red Star so they move out of the relegation zone, temporarily at least, but it won't be easy on Saturday at Niort. Good luck, lads, you'll need it.
Attendance: 1300. Referee: M. Lalu. Our verdict on match: 4/5. MoM: Joël André
AT LAST ! After nine hundred minutes of league football, Red Star finally achieved a league victory, but they came damn close to blowing it all in the last few minutes. Not a cracker of match by any means, but what is important is the victory and three precious points.
In conditions much more amenable that the last home foray in the freezing cold against Cannes, Red Star huffed and puffed without making much headway against Le Mans, who needed the victory just as badly as Red Star did. Early chances fell to Red Star, but the visitors' keeper was not really tested. Parity at the break, and the second half picked up from where the first had left off with neither side seeming capable of scoring. Red Star swapped Fellahi for the ineffective Mauricio, and with his first touch of the ball Karim found himself alone in front of the Le Mans' goalie, but the latter emerged victor thanks to the intervention of his legs. Bonora replaced captain Agasson, Valéri picking up the armband for the first time this season. Frankie laboured, was denied a penalty despite a crude lunge by a defender, but was on hand to deflect a shot minutes later by CRUCET past the vistors' goalie to open the score for Red Star (1-0).
Elation for the home crowd, but with only five minutes left on the clock plus stoppage time, could Red Star hold out. Le Mans laid siege to the Audoniens' goal, Forêt making his return after a long absence held out despite an inordinately large slice of time added on by M. Champet, tonight's referee. Finally a word for the visiting supporters who were numerous and vociferous - why can't we do that when we go away, lads ?
Attendance: 1300. Referee: M. Champet. Our verdict on match: 3/5. MoM: Camille Oponga.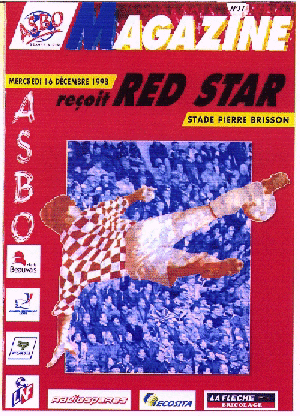 Usual problems in going away to a match; heavy traffic and a real pea-souper of a fog meant that going cross-country to Beauvais took two hours and forty-five minutes, including a good twenty minutes in finding the damn ground. Signposted from Paris, but not from the town centre ! Despite the late arrival, the match still hadn't kicked off, indeed by half-past eight it still wasn't sure if the match would go ahead or not. News filtered through that Sedan - Amiens had been abandoned at this time. From our vantage point by one corner flag we could just make out the opposite corner - not very clearly, though.
Relief all round as the teams emerged, but soon to be anxiety for the small band of Red Star supporters huddled in the draughty West stand. Beauvais went straight onto the attack, and this was to be the pattern for the first forty-five minutes. In fact Red Star didn't produce a shot of note in all the first period, Bonora and Crucet receiving very little service from a defensive-minded midfield. After half an hour, Beauvais scored; David walloped a shot against the bar and as the Red Star defence just looked on, Eric Groeleken smashed the rebound past For&ecirc:t.
Pizzo was replaced by Mauricio after the start of the second half, Crucet, struggling, giving his place to Karim Fellahi. The pace injected into the game by the two subs gave fresh impetus to Red Star attacks, and the visitors began to look dangerous. Beauvais defended in numbers against a series of corners, then from a long clearance Bruno Roux steamed through on Forêt, but his shot was magnificently saved by the Red Star 'keeper. As Red Star pressed again, with ten minutes left, Frankie BONORA, who hadn't really impressed all game, received the ball in the penalty are with his back to goal, pivoted to rasp a magnificent drive past Levet in the Beauvais goal (1-1). Both sides then played out the draw, which didn't really help either cause.
Attendance: 4302. Referee: M. Fraise (Strawberry !). Our verdict on match: 3/5. MoM: Samba Diawara.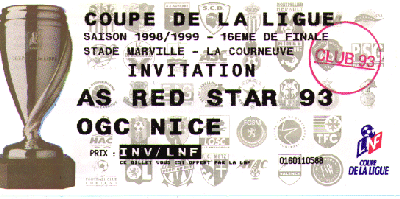 And another one bites the dust... as soon as extra time had finished this one was effectively lost. If Red Star were ever going to progress in this competition, then they had to get on top of Nice from the outset and bury them. Things started brightly enough, Sami Michel, returning from a long lay-off looked as sharp as ever, Joël André bustled in midfield and the defence looked sound. The first half didn't produce a great deal except for Red Stars' novel and amusing method of defending from a free kick. This consisted of the entire defence streaming forwards as the kick is taken, thus leaving virtually all of the hapless Nice attack stranded off-side.
Nice managed to hang on until the break, but cracked five minutes after the pause as Jean-Yves de Blasiis burst into the box and BONORA deflected his shot past the visitors' 'keeper. A deserved lead for Red Star, but as Guillaume Bouisset limped off injured and Nice introduced a third striker, the balance of the game swung the way of the Aiglons. Agasson was replaced by Fellahi, and this temporarily injected a bit of thrust into Red Star, but then the referee stepped into the fray, awarding virtually everything the way of Nice. Joël André was adjudged to have pushed a Nice player on the edge of the home penalty area, and as the free-kick looped across, the unfortunately-named Lionel Prat rose unmarked to curl his header over Jean-Phillipe Forêt.
As temperatures dropped, Nice stepped on the gas, and wasted at least five glorious chances in the dying seconds. Extra time produced nothing at all, so the game went to penalties. Stéphane Crucet let loose a rocket to score from Red Stars' first (1-0). Nice scored theirs (1-1). Franckie Bonora went left, so did the Nice goalie, saved (1-1). Nice scored again (1-2). Fred Darras went left again, but the man-mountain of a goalkeeper parried his feeble effort (1-2). Nice scored their third (1-3) before Karim Fellahi gave a bit of hope to Red Stars' fans, rapping the post with his spot kick before it crossed the line. (2-3). Finally Nice wrapped it all up (2-4). On Europe 1, Nices' coach Victor Zvunka crowed about the victory - how he can do so about a victory on penalties after a lifeless match is beyond me.
Attendance 600, Referee Mr Somps (bent), Our verdict on match: 2/5. MoM: Joël André
You can't fault Red Star for this one. As they did against then leaders Lorient one year ago, Red Star dug deep into their moral reserves and in fairness deserved better than one point. The turning point came as Fred Darras received his second yellow card following a tussle with the uncompromising Rivenet. Leading 1-0 at this point, thanks to a goal from full-back BOUISSET, following up his blocked free kick, Red Star battled hard but lost their advantage as substitute Tomczyk stooped to head past Forêt. Minutes later, BOUISSET floated a sumptuous free kick past Weber to restore Red Stars' lead, only to see Rivenet flash home the equalizer with only seconds remaining.
Stalemate at the interval, Red Star failing to capitalise on a gusty following wind, but the second half opened brightly for the home side. After five minutes, Bonora was upended just outside the box, Bouisset initially found the wall, but his rebound zipped past Weber, to the delight of the home contingent. Darras walked, Tomczyk equalised, setting the match up for it's riproaring finale.
On a positive note, Red Star showed character, and the long-awaited return of Albert lifted the side. Bonora toiled hard up front aided by the non-stop running of Crucet, Forêt kept Red Star in the game with some magnificent saves and until his dismissal Darras was king of the defence.
Attendance: 1863. Referee Mr Vessière, our verdict on match: 4/5, MoM: Bouisset.
Close but no cigar is the verdict on this one. Red Star damn nearly went and threw this one away in the last ten minutes. Leading 1-0 thanks to CRUCETS' fourtieth minute strike, following up a long pass from David Guion, Red Star let their visitors equalise then virtually win the game. However the hard-running and big heart of Guillermo MAURICIO saved the day.
Earlier Red Star had battered the normally mean Gueugnon defence into submission, only some dodgy finishing and inspired goalkeeping by Montanier preventing the Forgerons from conceding a hatful. Soudani and Bonora looked the liveliest striking partnership so far this season, until interrupted by a potentially serious injury to the latter. Service was resumed after the break, and Red Star continued to press without reward.
For once Red Stars' defence was up to the task, with Hodouto outstanding, ably assisted by Oponga, clearly benifitting from a good rapport with his new partner. However the match turned on its' head with only ten minutes remaining. Gueugnon scored with a goal at the limits of off-side, then with only seconds remaining doubled their lead in debatable circumstances. As an attack broke down, Red Star cleared their lines leaving a Gueugnon attacker limping back, clearly off side. The ball was hoofed back towards the Red Star goal, another Gueugnon attacker broke free down the right, crossed for the other attacker to score the second goal. Hmm. Justice was done straight from the kick-off as Mauricio took on the entire away defence before rifling the ball under the body of Montanier. As the Red Star fans celebrated, several Gueugnon players lay on the ground, gutted. It's usually the other way round.
Attendance: 1500. Referee Mr Bonnichon, our verdict on match: 4/5, MoM: Hodouto.
Red Star: Forêt - Guion, Bouisset, Oponga, HODOUTO - , André, Mauricio, Valéri (c)- Crucet (Fellahi), Bonora, Soudani (De Blasiis).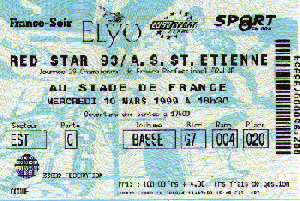 When Saint-Etienne came to Bauer last season, there were around four and a half thousand spectators. This time around ten times that. " Where were you when you were crap ? " could have been the song aimed at the massed ranks of visiting supporters, that is if there were enough Red Star supporters to taunt their rivals. Briefly, Red Star lost 2-1. Nestor Subiat scored the first after a usual debacle in front of Forêts' goal. Red Star had at least four attempts to get rid of the ball, but despite all that the ball ended up in the net. Then the sweeper Mettomo surged forwards, beat half the defence before Sarr nodded the ball back to him. Mettomos' sweet twenty yard volley gave Forêt no chance (0-2).
After the break Red Star took the upper hand and it took the off-side trap played by Saint-Etienne to deny them on numerous occasions. Les Verts are twinned with Arsenal; they send their exciting young players to England, whilst Arsenal export their old dull offside game back to France. Nevertheless Red Star finally sprung it, Bonora raced free before crossing for MAURICIO whose momentum carried him, the ball and a green-shirted defender over the line into the net (1-2).
In with a chance, Red Star pressed as Saint-Etienne backed off. Alonzo fell heavily after an aerial challenge with Ted Agasson, the best Red Star player on view. The keeper had to leave the field, his place taken by Revelles the attacker. Saint-Etienne defended in depth to protect Revelles, and he was forced into a couple of good saves, although in one case Agasson should have done better. Fellahi replaced Mauricio and injected pace - in fairness he seemed less overawed by the big occasion than did some of his team mates.
Forêt made a couple of early good saves; Bouisset and Guion played largely defensive roles; Oponga and Darras were confident and solid apart from the two goals. André seemed overawed by it all and never really got in the game, De Blasiis was muted, Mauricio had a couple of good runs but was well shackled by Saint-Etiennes' defence, Crucet threatened and Bonora toiled but the best player for Red Star was Agasson. All three subs got a game too, enjoying the privilege of playing in the Stade de France.
It's not looking too good, relegation rivals are pulling away and the drop seems likely. But there are still nine matches left, a lot of points to play for. Hmm, where exactly is Raon-l'Etape ?
Attendance : 48 018 (D2 record). Referee: M. Ledentu. Our verdict on match 4/5, MoM: Agasson
Red Star: Forêt (c) - Guion (Diawara), Bouisset, Oponga, Darras - André, De Blasiis (Busuttil) Mauricio (Fellahi), AGASSON - Crucet, Bonora
First victory in 1999, and well-deserved, too. Red Star had to work bloody hard for this one, Laval were up for it and three points is a good reward for the lads in green. To all those who turned up for the Stade de France match, but didn't bother with this one, they missed a better match by far. OK, the surroundings may not be quite as palatial, but on the pitch this was top drawer stuff. Red Star started the brightest, with a bit of a scratch side, admittedly. No Hodouto, Oponga, Giraudo, Bouisset, Bonora and Fellahi, so in came Diawara, Busuttil and Saçi, and to be honest they gave all they had. Diawara was magnificent in defence ably supported by Guion, having one of his best games for Red Star and Fred Darras.
Reward came after twenty odd minutes as a Crucet free kick was swept home superbly by MAURICIO (1-0). Laval fought back and showed why they are the cup quarter finals, but Red Star doubled their lead as the clock approached half time. Again a break down the right, this time AGASSON met Franck Busuttils' cross perfectly (2-0). However to spoil the party, only seconds after the restart, Diallo did his impression of a dying swan in the Red Star penalty area, and Mr Vileo pointed the the spot. Cruel ,and Diallo despatched his spot kick. (2-1).
The second half was a real corker. Penned back into their own half, Red Star were put under the cosh. Jean-¨Phillipe Forêt then kept Red Star in the game with some wonderful saves, using both conventional and less orthodox ways of defying Laval. As the pressure mounted, Agasson showed coolness to slow down the game before releasing Mauricio down the right, and CRUCET with a diving header, potentially a goal of the season, put the game out of Lavals' reach. (3-1) Still time for Laval to have a goal refused for a crude challenge on the Red Star 'keeper, but in the end three vital points for Jean-Luc Girards' men. A good defensive performance, although in midfield André never got really into the game, apart from a wild tackle which earned him a caution. Red Star looked quicker up front without Bonora, and Saci looks to be a prospect for the future.
Attendance : 1673. Referee: M. Vileo. Our verdict on match 4,5/5, MoM: Diawara
Red Star: Forêt (c) - Guion, DIAWARA, Darras - André (Valèri), De Blasiis, Busuttil Mauricio (Belissaoui), Agasson - Saçi, Crucet
Action photos taken during the match
Six thirty isn't perhaps the best time to have a friendly match; getting across Paris in the rush hour meant that I arrived at seven and missed most of the first half. Apparently though I didn't miss a great deal. Between two and a half and three thousand here to watch a training match, and the autograph hunters got a free view of their heros. PSG fielded a virtually full strength side, no kids or reserves here. Rodrigues, Okocha, Wörns, Goma, Madar, Rabsen.. Rabenst...Rbsntrd...Rabtransan... him with the long name, and many more. Brightest for Red Star were Agasson and the prospect Saçi, who tore holes down the left flank of the Paris defence. Second half and Girard swopped things around, bringing on Bonora up front. The latter toiled away, but Red Star lost the cutting edge given by the speed of Saçi. Adailton squandered a golden opportunity from three yards out, then with about twenty minutes left Red Stars' defence committed their usual error, a backpass letting in Adailton who crossed for Madar to score from close range.
So, another defensive error cost Red Star the match. Other than that, PSG were up to the job of containing Red Stars' attack, much easier with Bonora than with Saçi. Fabien Valéri looked good, Agasson too, but those holes in the defence, and at times it looks as if the midfield are complete strangers to each other. Still, the young prospects might just be the key to the future.
Gutted. Empty feeling in the stomach. Sick as a parrot, Brian. Aftermath of what could very well turn out to be the turning point of the season. Red Star and the second Division, it's effectively all over, and only a miracle can save us now. This would be hard to find, quite honestly, after the gutless, characterless and totally inept performance doled out this evening. Only in the days of Worksop Towns' descent from the Northern Premier League in 1988-9 can parallels be found with the awful showing at Marville on a wet and miserable Wednesday evening.
Oddly enough, in the first fifteen minutes it was all Red Star. Agasson was masterful in midfield, probing, distributing and innovating. Busuttil and Sa&ccedil&i cut and thrust into the heart of the Amiens defence and Mauricio looked good. A cross from the latter was met majestically with the head by Saçi, but as the crowd rose to celebrate a wonder goal the ball hit the post and rebounded to safety. Seconds later, Amiens broke free, Forêt was beaten and Lebrun slid the ball into the net assisted by Fred Darras. Despite the setback, Red Star hit back, but were denied by the woodwork twice. Cruelly, just before the break Amiens doubled their lead as Fran&ccdil;ois had a clear path on goal.
Amiens made it three after the break, thus effectively ending Red Stars' hopes. Maurice rose unmarked from a corner needlessly conceded to head home, and head home is exactly what some of the locals did. They could have taken with them the green-shirted incompetants, as Amiens netted a fourth and arguably the best goal from an awkward angle as Forêt was well beaten. Again, not a defender in sight. MAURICIO did grab a consolation from the penalty spot in the dying seconds, but by then it was all over, as is Red Stars' stay in Division Two, and potentially the 102-year existence of the club. What a load of rubbish.
Attendance : 1000. Referee: M. Somps. Our verdict on match 0/5, MoM: SACcedil;I if I really have to award one.
Red Star: Forêt (c) - Diawara, Bouisset, Oponga, Darras - André, Valèri (Fellahi), Busuttil, Agasson - Saçi, Mauricio
This match left me completely speechless - literally, as I lost my voice shouting myself completely hoarse in the last twenty minutes. What a fantastic match, but then again what a truly awful first forty-five. Red Star were all over the place before the pause, incapable of even stringing two short passes together. David Guion persisted in wandering forward to support the attacks, but was guilty of being too slow in tracking back, thus exposing the defence to one of the best attacks in the second division. Cup finalists Sedan stormed into this match, going hell for leather straight from the kick off. Any signs of a post semi-final hangover were quickly dispelled as Red Stars' defence cracked after only two minutes. Unable to clear their lines, Di Rocco smashed a fine drive past the exposed Lucas with the home defence all at sea.(0-1)
Red Stars' game then degenerated into a incoherent dirge, a history of mistimed tackles, wild passes and ineptitude in front of goal. Sedan supporters laughed at Red Star players falling over whilst trying to shoot. The humiliation of it all. Red Star dominated despite their inefficiency and Sedan never really profited from all this mayhem. But as half time loomed, Sedan applied what seemed to be the killer touch and a balls-up between Lucas and Oponga resulted in the ball nestling in the back of the net. (0-2)
Two-nil down at half time with all the signs pointing to another Amiens. However, Agasson, who had looked one of the better players earlier, was on hand to reduce the mark. Akim Saci, who was by now starting to stamp his authority on a tiring Sedan left-back ripped away down the right, and his beautiful cross was headed home confidently by AGASSON. As Sedan waned, Girard pulled off a tactical masterstroke. It didn't appear so at the time, as memories of Belissaouis' performance at Troyes last season came back, but Hodouto was replaced by the tall striker. Aziz Belissaoui looked like a man with a mission, producing surging runs at the Sedan back four. Mauricio joined in the fun, as did Agasson, and together with the increasingly dangerous Saci out on the right the match was now wide open. Sedan threatened occasionally, but Oponga and the young Meïté swept up the danger.
Guion gave his place to Busuttil and the jigsaw was now complete. Red Star looked a different proposition and the equaliser when it came was deserved. From a corner, Aziz BELISSAOUI used his height to advantage to place a header into the corner past the Sedan 'keeper. (2-2). With seconds remaining, Red Star pulled off the improbable when that man BELISSAOUI stuck out a leg in the six yard box to send the home supporters wild (3-2). The local hero, mobbed by his team mates earned the accolades by the progress he has made in recent weeks.
At the final whistle the overjoyed Red Star crowd were rightly saluted by the players. Sedan can reflect on a tired performance following their cup triumph, but it is only a minor setback in their aspirations of D1. As for Red Star, it's given us something to remember, at least !
Attendance : 2 500 Referee: M. Legrain. Our verdict on the match 4,5/5. MOM: SACI
Red Star: Lucas - Guion (Cap.) (Busuttil), Meïté, Oponga, Bouisset, Hodouto (Belissaoui) - André, De Blasiis, Agasson - Mauricio, SACI
Now here's the match as seen from a Sedan supporters' viewpoint.
SEDAN MISS OUT
After the cup semi-final, it's back to league business for Sedan and a match away at Red Star. A vital match for both parties for different reasons; Sedan in quest for promotion and Red Star fighting to stay in D2. At the same time, Lille are at home to Amiens, another struggling side. Julien and I are in the company of John, Webmaster of the Red Star site who kindly offered us transport to the match.
Upon arrival at the ground, I discover a friendly club, we are welcomed by the President of the Red Star supporters. There is a family atmosphere and there is no segregation of supporters so the two sets of fans sit side by side. The match begins, Sedan start to impose their flowing game and soon open the score. I'm on my feet, the supporters go wild. I see John, he's a tad unhappy. Not long after there is confusion between the home goalkeeper and his defence, Sedan profit to ram home their advantage. To me, it's all over and Sedan have won. I sympathise with our chauffeur, by now completely gutted. The match is still evenly balanced, but it is hard to see how Red Star can get back into it.
Half time arrives, and I buy a consolation drink for John. For him, it's all over, even if deep inside he still wishes for a miracle. I keep quiet, because Sedan are certain winners.
The game gets underway again and immediately one senses that the game has changed. Red Star dominate but now become increasingly dangerous. Inevitably they pull one back to make the score 1-2. John is overjoyed, but I still have faith in our Red & Greens and I'm sure that we'll finish the job. However, Red Star continue to dominate and threaten. Chances go begging until they finally equalise. John is ten feet in the air ! The match restarts and disaster occurs when Red Star grab a third to make the score 3-2. John is happy now, in contrast to earlier. Sedan try to get back in the game, but even the arrival of N'Diefi can't change the final score. The last chances go to Red Star, but in the end it's the players of Red Star who come across to thank their supporters. I distance myself and let John have his moment of glory.
We meet up by the Supporters Club shop. John commiserates whilst someone posts the other results. Amiens have beaten Lille, John isn't too happy as Amiens are Red Stars' rivals in the relegation battle. For Sedan, it's good news which makes up a little for the defeat. True, Sedan have missed the boat this evening, with 8 points ahead and three matches left, we would have virtually been in D1. However, with Gueugnon (5th) home, Lille (4th) away and finishing with Saint-Etienne, the leaders at home all is left to play for.
Translated from a report by Grégoire Dessard, Webmaster of Sedans' site: check out www.chez.com/cssa/index.htm
In reality we could have done with playing a team with nothing left to play for, but instead we got Caen, still in with an outside chance of promotion. Proof of this came in the final seconds, when Caen sent their brilliant goalkeeper up into attack. Too late, but the last ten minutes or so of this mediocre battle did justify the entrance fee. Red Star seemed resigned to their fate, a little, and not a great deal came of their endeavours. Both goalies performed well, Lucas making a match-saving save from William Loko when all seemd lost. Mauricio, Saci, Agasson and Crucet were guilty of wasting good opportunities to save the club. In defence Red Star held out reasonably well , but were in turn assisted by some equally uncertain finishing by the Caen strikers, Loko in particular. Ex-Red Star captain Brouard did his best to earn a repeat of his recent lengthy ban for violent conduct, wading in following an altercation over a nasty foul on Joël André. Behaviour hardly becoming of a captain. Moment of optimism at half time as Ajaccio led Valence, but their subsequent capitulation added to Red Stars' shot-shyness means that Red Star start next season in the National. Pity.
Attendance : 1 800 Referee: A Slaphead. Our verdict on the match 2,5/5. MOM: AGASSON
Red Star: Lucas - Diawara (Cap.), Meïté, Oponga, - André, De Blasiis, AGASSON - Mauricio, Saci, Crucet
Fireworks at the end of the match, but it was the few Red Star supporters who enjoyed them the most. For those that could be bothered to make the two hour trip up the A1 to the suburbs of Lille it was a match won in the first half an hour. Despite Wasquehal starting the match the most lively, an indirect free kick quite rightly awarded to the visitors inside the penalty area was driven home by Stéphane CRUCET, playing what could be his last match in the green shirt. Again the balance of the match shifted in favour of the home side who looked like drawing level on numerous occasions, but a combination of excellent saves by Lucas and a courageous central partnership of Oponga and Me&iuml:té kept the yellow hordes at bay.
Ex-Red Star player Jozef Keller must have taken pity on his former team mates, because in needlessly conceding the ball to Akim Saci, he set up what must be one of the goals of the season. SACI picked up the ball on the halfway line, set off on a mazy run through the heart of the Wasquehal defence, before slipping the ball into the empty net. A goal to rival that scored by Ryan Giggs against Arsenal ! Four minutes later, Red Star won another corner and MEITE rose to power an unstoppable header past the Wasquehal 'keeper Sibille. Three up, half an hour gone, just as well because the news filtered through that Beauvais were beating Le Mans. Almost from the restart, Wasquehal reduced the score to 3-1.
Second period, no more goals for Red Star, but Wasquehal did pull another back in the 85th minute, by then it was too late and Red Star pulled off their third away victory of the season. Deserved, as well. Now it's a wait to find out if Cannes will drop out of D2 and if GFCO Ajaccio will not be promoted.
Attendance : 800 Referee: M Auriac. Our verdict on the match 3,5/5. MOM: MEITE, despite the wondergoal of Saci.
Red Star: Lucas - Guion (Cap.), MEITE, Oponga, Busuttil - André, De Blasiis (Pizzo), Mauricio (Doukantie), Valéri - Saci, Crucet