MATCH REPORTS SEASON 1999-2000 RED STAR 93
---
Friendly Matches

Coupe de France

Coupe de la Ligue

Championship - National
Red Star get the blues ! Or nearly, as Karim Fellahi salvages a draw for Red Star in their first friendly of the season against the UNFP, a team of players currently out of contract looking for new clubs. Lots of new faces in the ranks of Red Star, playing in blue on a warm and sunny Summers' evening in the setting of the Stade Michel-Hidalgo at Saint-Gratien in the Paris suburbs. Unfortunately no names, as there wasn't a team sheet available, but from last year were Jean-Philippe Forêt, Camille Oponga, Mickaël Pizzo and Hakim Saci. On the bench were Karim Fellahi, Meïté, Samba Diawaras' brother, Vincent Doukantie, Fabrice Mary and Sebastien Renaud. Making his debut was Ludovic Mary, recent arrival from FC Nantes, and the ex-Racingman Jean-Luc Vasseur.
The match started evenly balanced, then Pizzo with a flash of brilliance tried a lob over the UNFP goalkeeper only to see a defender on the line boot the ball to safety. SACI was brilliant, and was rewarded for his tenacity with a crisp finish and the opening goal of the evening. However a characteristic ghastly cock-up in the Red Star defence gifted an equaliser to the UNFP minutes later.
After the pause Girard swapped things round a bit bringing on all his subs, but UNFP took the lead with about twenty minutes remaining, Renaud well beaten. Finally the partnership of Fellahi and Saci yielded fruit after a number of wasted chances. Saci tore off down the right then crossed to the unmarked FELLAHI to equalise. Girard withdrew Saci and he left the field to a standing ovation (surely Red Stars' salvation ?).
So it finished two apiece, a good match on a beautiful evening. In summary there's work to be done, but if Saci stays and the youngsters such as Doukantie continue their progress then hope springs eternal. Red Star: 1 - Forêt; 2 - Pizzo; 3 - L. Mary; 4 - Delanoue; 5 - El Othmani; 6 - Deon; 7 - Vasseur; 8 - Elouali; 9 - Saci; 10 - Dia; 15 - Oponga. Subs: Renaud; Benemmou; F. Mary; F. Diawara; Nicolas; Fellahi; Meïté; Coezy; Doukantie.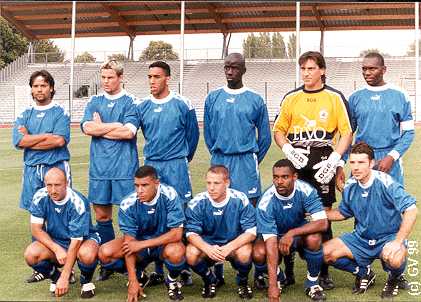 And the first victory of the season for Red Star, thanks to a quite superb finish by Karim Fellahi. Unfortunately I missed the first three goals, and when I arrived Red Star were 2-1 up, thanks to a brace of goals from Akim SACI. Shortly after Walsall drew level from the penalty spot, a blatent handball giving Platt the chance beat Forêt. (2-2). After the pause Red Star went ahead for the third time, Akim SACI beating the offside trap to neatly deceive the visitors' keeper. A cool finish to cap a deserved hat-trick. However, the Walsall contingent, of which there was a good number disputed the legality of the offside decision. Moments later Mark Robins, ex-Man Utd finished a neat Walsall passing move to make it 3-3, then Karim FELLAHI skipped past two defenders to slam the ball home from the tightest of angles. (4-3).
A nice evening to watch a game of football, around 150-200 at Marville for this one including a friendly bunch of travelling Brits. On the face of it, there will probably be more visiting supporters from the UK for a friendly then there will be visitors from most clubs in the league this season (Valenciennes excepted).
Some good performances from Red Star - in blue again, El Othmani looked a good signing, the two ex-Racingmen worked well, the substitute goalie Bahyia inspired confidence and of course Saci is a class above. Walsall looked a little bit rusty, and Tony Daley only got ten minutes or so - difficult to give a judgement. Nice to win, but we did concede three goals in doing so. Looks like the achilles heel of last season still might be there.
Team : Forêt, Delanoue, Mary L., Oponga (cap.), El Othmani, Diawara F., Pizzo, Vasseur, Durand, Abdellah, Saci. Subs : Bahyia, Meïté, Deom, Fellahi, Doukantie, Nicolas, Elmeida, Bélas.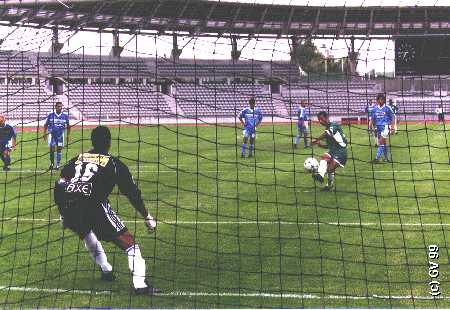 In a stadium with a capacity of 20 000, 150-odd were inquisitive enough to turn out for this pre-season derby. Under an ominous grey sky, Paris FC in blue faced Red Star in their tradtional green shirts. Straight from the kick-off the Parisiens controlled the pace of the match and dominated the midfield. However, the first chance fell to the players from Seine-Saint Denis, in the twelfth minute. Slowly but surely the Greens, despite the absence of Saci missing through a slight injury, created some good moves. Milton headed just over the bar (14th), a free kick from Fellahi thundered into the wall then from Milton again. Paris weathered the storm and opened the scoring in the 32nd minute when ex-Niort striker Walqmir Mota struck home a rebound after a save by Forêt.
Fellahi responded immediately with a fine shot saved by the Paris 'keeper. Once again, just like last season, Red Star conceded yet another goal just before the break following a defensive cock-up between Forêt and El Othmani. Mota on hand again to punish the error and to double the score.
During half-time Jean-Luc Girard gave his charges a bollocking and made two changes; Doukantie and Bahyia replacing Diawara and Forêt respectively. Red Star proceded to grab a hold on the match. From a Doukantie corner, Mary set up Milton who missed a golden opportunity. In the 56th minute, again from a corner, Milton and El Othmani impeded each other and the ball slid inches away from the goal. Coach Girard swtiched things around again, this time Déom and Mary giving up their places to Soudani and Meït&eacute. Mary limped off following a knock to the ankle incurred in a challenge
Paris F.C. continued to pick up posession in midfield and to knock it forwards to Mota, the most dangerous Parisian. The 66th minute produced a flash of genius from Doukantie, nutmegging a defender before shooting into the side netting.
Missing only a bit of sucess, Pizzo and Oponga were replaced by a pair of young hopefuls Pando and Aïchour (reserve team striker). Soudani, on the way back after injury (20 minutes outing against Sedan), shot over from twenty two yards out. Minutes later Aïchour had a pot shot but the keeper saved well. In the 83rd minute some good approach work from Doukentie and Meïté resulted in Soudani being upended in the penalty box. The referee whistled, Karim FELLAHI neatly sent the goalkeeper the wrong way.
A last attack from Paris FC and a bit of argy bargy before the referee drew the match to a close. With two important pieces of the jigsaw missing (Saci, Durand) it is difficult to rend judgement on the performance.
Line-up : Forêt, Mary, Oponga (cap.), El Othmani, Delanoue, Diawara, Pizzo, Déom, Fellahi, Milton, Abdellah. Subs: Soudani, Pando, Aïchour, Bahyia, Doukentie, Meïté.
Translated from a report by Gérard Valck
THE STAR ECLIPSED
Red Star 93 were unable to take the upper hand against the pre-season favourites for the National, Beauvais. In front of a crowd of a few hundred, the men in red (this seasons' colour) slumped to their first defeat. Bad habits are hard to get rid of, and it only took a momentary lapse of concentration less than five minutes from the final whistle to miss out on a point.
Bad luck continues to plague the eleven of coach Jean-Luc Girard. Laurent Delanoue off injured in the 34th minute, then the 66th minute dismissal of Mourad El Othmani for a professional foul. The defense then became shorn of two of its key elements.
Despite being reduced to ten, Red Star went on the offensive - two good opportunites came and went begging. Unfortunately as time approached, the Red Star players rested on their laurels and Beauvais, taking the upper hand took the three points when Younis Diani beat Jean-Philippe Forêt from inside the penalty area. Three precious points for the Beauvais coach Jacky Bonnevay to open the season.
On the whole, a draw would have been fair, but in a way difficult to complain about the outcome. Stalemate in midfield, with not much going up front for both sets of strikers. Camille Oponga and co. have to rethink before the trip to Fréjus, surprise winners at Raon-l'Etape. In the Var, one word: victory. However, the week ahead could be a difficult one for Girard, to rebuild his defence crippled by the absences of El Othmani and Delanoue.
Attendance: 600 Ref : M. Somps
Red Star 93 : Forêt, Diawara, Mary L., Oponga, El Othmani, Pizzo, Saci, Durand (Doukantie 69th), Lestic (Milton 87th), Fellahi, Delanoue (Meïté 34th). Translated from a report by Gérard Valck
Red Star Victorious, by our correspondant at Hyères, Jean Morand
Straight from the kick-off, in front of 400 spectators including ex-Red Star coach Pierre Repellini, Jean-Luc Girards' men took control of the game. Within fifteen minutes the first breakthrough came as Karim FELLAHI converted a tenth-minute penalty after Hakim Saci was upended in the penalty box. It was SACI himself who doubled Red Stars' lead, five minutes later, his speed taking him past his marker. A more balanced second period, both sides having good chances. Fréjus pulled a goal back but SACI blasted his second and Red Stars' third goal in the last minutes to give the visitors their first three points of the season. Man of the match was Saci, but honorable mentions also to Pizzo, Meïté and Doukantie.
Red Star 93 : Forêt, Meïté, Mary, Oponga, F.Diawara, Fellahi, Pizzo, Doukantie, Durand, Lestic, Saci. Pando and Milton came on as substitute during the match.
Jean Morand.
Disappointment for Red Star after the splendid win at Frèjus. Despite having ninety percent of the game, the home side fell to an accomplished Angers side who came and performed an impeccable smash and grab job to steal the three points. From the outset Red Star tore into Angers, but fell victim to the sucker punch after fifteen minutes as Vandervoorde centered from the right and Molinier crashed the ball home from close range. From then on it was a case of dogged defending by the visitors, led admirably by ex-Red Star man Alain Gunia, faultless all evening. Aided by some truly woeful finishing and a Saci well stifled by the defence, away 'keeper Louiron was never really troubled.
Red Star should have had a penalty when Saci was bundled over in the box, but no whistle was forthcoming. Fellahi, probably the worst culprit in the finishing stakes flashed a shot narrowly wide whilst in the second half, Milton, who had replaced the ineffcient Lestic rattled the bar with a powerful drive. At the back the notoriously unreliable defence was never really tested, although when the counter attacks came, Oponga, Meïté and Diawara handled the threat. In midfield a constrast between Doukantie, who rarely threatened and the industrious Pizzo who buzzed around all evening, often alone and surrounded by four white shirts. Durand was notable only for his absence and was withdrawn to be replaced by Déom.
But it was in attack where the failings appeared - three hours at Marville without a solitary goal. Saci came across a defence who had done their homework and was shackled apart from the odd flash of brilliance, notably before the pause. When he did lose his shadow, however, Fellahi was shot-shy and Lestic managed somehow to be in the wrong place each time. On the positive side, Ludo Mary looked a good prospect and his distribution to Saci was usually very good.
So a lesson learned for the youth of Red Star - Angers rely on experience and this paid dividends tonight. For Girards' boys another step in the learning process, but there is still a very long way to go.
Attendance around 400. Referee: M. Chat. MoM: difficult, SACI, but Ludo Mary & Pizzo deserve mentions. Verdict: 2/5.
Red Star: Forêt - Diawara, Mary, Oponga, Meïté - Pizzo, Durand (Déom), Doukantie - Lestic (Milton), Fellahi, Saci
The Marville Syndrome. by G. Valck
Once again foiled by a last-gasp goal. Even the arrival of Pierre Repellini didn't stop the rot. Another potion is called for before the trip to Raon (Friday) and successive home encounters against Grenoble (7th) and Thouars (11th).
How many times did we see that, last season ? The Greens conceding goals at critical moments (just before half time and full time ?) This term, the red shirt doesn't seem to be able to handle the last seconds (Beauvais 86th minute, Reims in injury time).
Really Red Star should have tied this one up when Saci was upended in the box, only to see Karim Fellahi blast the ball skywards much to the amusement of former Red Star player, now coach of Reims Manuel Abreu.
Unlike the last two dour encounters at Marville, this one was enlightened by two attacking sides, giving a more open game with numerous chances. New recruit Richard Akiana, linking up with former Troyes team-mate Alain Durand fired home a right-foot shot past the visitors' 'keeper in the 35th minute, only to see his efforts wiped out in stoppage time.
Attendance: 1 300. Referee: M. Rebaud
Red Star 93 : Forêt, Diawara, Mary, Oponga, El Othmani, Pizzo, Doukantie, Durand (Milton), Akiana, Fellahi, Saci
The healthy climate of the Vosges came as a breath of fresh air to Red Star. The decisive goal, scored by Karim Fellahi following a corner by Alain Durand earned an important victory. For a critical match, the coaches of Red Star had switched things around - Jean-Marc Branger made his debut as did Fabien Valéri, captain this evening. Camille Oponga was relegated to the bench whilst Mickaël Pizzo moved back into the defence, Fousseni Diawara taking up a midfield rôle. Folowing Fellahis' goal, Hakim Saci rapped a fierce drive against an upright. Akiana, always in the thick of the action provoked the sending-off of his shadow.
All fourteen players got a game, the three subs coming on late in the day.
In short a welcome victory for Red Star, seeing as how all the front-runners won this evening. Tuesday evening at Stade Marville, the Rouges face a stiff test against against Grenoble, one of the early-season surprise packages. One Red Star player will be exceptionally motivated : Jean-Marc Branger, goalkeeper, who last season featured in the promotion glory of Grenoble.
Attendance : 750. Referee : M. Goulu
Red Star 93 : Branger, Pizzo, Valéri, El Otmani, L. Mary, Diawara, Fellahi, Doukantie, Durand, Saci, Akiana. Subs : Oponga, Déom, Lestic.
Karim Fellahi, hero of Marville. Red Star won their first league match at home since 1st May 1999 thanks to a splendid goal by the local hero. With less than five minutes remaining, Karim picked up the ball just inside the visitors' half, skipped past a couple of tackles then unleashed an unstoppable piledriver past the hapless Yoann Bouchard.
With half an hour remaining it looked like a case of here we go again, as Grenoble took the lead with a breakaway goal. Red Star, pushing forwards were caught napping and from a long clearance El Othmani was left in the wake of Bakadal. The Grenoble striker slipped the ball past Branger without difficulty. (0-1). However, in comparision to dour Angers, Grenoble proved to be less adept in the National art of sitting on a lead. Indeed they pulled virtually everybody behind the ball, but when Hakim Saci won a corner, they were unable to clear their lines and MAMOUN succeded in forcing the ball over the line and into the net. (1-1).
Earlier Red Star had shown themselves to be lacking in bite against a Grenoble side bright and at times dangerous. Blaise Mamoun, making his debut in the place of Fellahi emerged as a potential successor to Ted Agasson, firstly having a shot cleared off the line then shaving the woodwork with a couple of powerful drives. Akiana curled a shot just before the break but his effort found the woodwork. In the second period, Hakim Saci came more and more into the game, at times carving open the right side of the Grenoble defence. But the turning point came with the substitution of the tiring Durand, replaced by Fellahi. Pizzo went off, Oponga came on and suddenly there was a renewed sense of urgency about Red Star. The pace of Karim caused problems for the visitors and together with Saci on the right and Akianas' hard work in the middle, Red Star now looked confident. The winning goal was a real beauty and in the end deserved.
Attendance : 600. Referee : M. Rodolphe. Our verdict : 3.5/5. M.o.M. : MAMOUN
Red Star : Branger - Diawara, L. Mary, El Othmani, Doukantie, Pizzo (Oponga), Durand (Fellahi), Valéri (cap.), Akiana, Mamoun (Déom), Saci
An action packed match, value for money for the six hundred or so supporters. Straight from the kick off Red Star showed their new-found enthusiasm and confidence, and the first twenty minutes was one-way traffic. Doukantie curled a corner which bounced off the underside of the bar and was hacked away to safety by a panic-stricken defence. Thouars did come back into the game after the first twenty minutes, but with ten or so minutes remaining until the interval, Saci fed Akiana in the penalty area, and the burly Red Star striker was dumped unceremoniously to the ground. For a change, DOUKANTIE stepped up to take the kick and made no mistake using power to blast his spot kick home. (1-0).
The second half revolved around two major incidents. Firstly, as Red Star sat confidently on their lead, Morad El Othmani handled the ball just outside the penalty area. The referee showed the second yellow and El Othmani, for the second time this season walked. Red Star reorganised, but uncertainty showed and it was only a matter of time before Thouars equalized, a soft goal from a long-range effort. (1-1). The equalizer appeared to galvanise Red Star, and they pressed forwards again. Saci was upended on the right, just outside the penalty area. Substitue Ludo Mary curled in a powerful free kick which was glanced on and into the net by AKIANA. (2-1). Minutes later Red Star could have wrapped the game up, but Doukantie rattled the bar, and as Akiana followed up the Thouars goalkeeper pulled off a fantastic acrobatic save to deny the Red Star forward. Then with only ten minute remaining a second major incident turned the course of this topsy turvy match. Red Star 'keeper Jean-Marc Branger collected a cross, and as he fell to the ground he was clattered by the clumsy late charge of a Thouars attacker. Only a yellow card this time, but at least five minutes elapsed before Branger was able to retake his place between the sticks. Red Star seemed uneasy once again, and Thouars swarmed forwards. Finally, as the clock ticked towards five to ten, the inevitable happened and Thouars found a way past Red Stars' defence. (2-2).
Two points lost, thanks to a disgraceful referee performance and a fourth official who gave a demonstration of how to be a jobsworth. Small wonder football is in a torpid state, thanks to ridiculous laws, which are applied to the letter.
Attendance : 600. Referee : A. Tosser. Our verdict on match : 3/5 spolit by a poor refereeing performance. MoM: Akiana.
Red Star : Branger, Diawara, Senaha, Oponga, Doukantie, El Othmani, Fellahi (L. Mary), Valéri (cap), AKIANA, Mamoun (Pizzo), Saci. Not used: Durand.
Once again Red Star 93 snatched defeat from the jaws of victory. After having quickly opened the score with a goal from top marksman Karim Fellahi (4 goals), Red Star then failed to capitalize on their lead. After the break, Istres drew level with a soft goal, scored by Thiaw and eight minutes later Richter wrapped the game up for the Istreens. Red Star now slip to 11th, three points from the relegation zone. The objectives at the start of the season are far away now - D2 will have to wait.
Present at the match, Jean-Claude Bras demanded a more professional attitude from his charges in the coming matches.
Red Star: Branger, Diawara, L. Mary, Senaya, Oponga, Pizzo, Fellahi , Valéri, Akiana, Mamoun, Doukantie (Saci)
This is all getting a bit repetitive. As they did against Reims, Angers and Thouars, Red Star threw everything but the kitchen sink at their opponents but still fail to win. With the exception of one (major) aberration, Red Star played the game plan perfectly. The fault came in failing to put the ball in the net. After the early exchanges it was business as usual for Red Star. Pressure, followed by the odd counter attack. Branger did well to turn a dangerous shot away for a corner, whilst at the other end Akiana was very well shackeld and saw little of the ball until a couple of minutes from the break. Doukantie broke away down the right, swept in an inviting cross for which the burly Red Star forward applied the finishing touch with a diving header.
After the pause the game evened itself out a little, then on the crucial hour mark, Red Star stepped up a gear. Firstly Saci set off on one of his runs, twisting and turning past four or five defenders before winning a corner. As holes opened up in he visitors' defence, Doukantie broke free down the left but failed to control the ball at the vital moment, as Akiana waited unmarked in the center. Finally Saci set off at the limit of the off-sidetrap, and with only the goalkeeper to beat saw his effort parried away by the Valenciennes' custodian, in fine form this evening.
It was to be Sacis' last contribution to the game, as Soudani made his big return from a long-term injury. Seconds later, a Valenciennes striker burrowed his way into the Red Star penalty area, and went down under the clumsy challenge of Ludo Mary. Branger could not stop the resulting spot kick, Mary watched it all as he made his way back to the dressing rooms, the second red card victim in two home matches.
Red Star went all out for the winner, but Valenciennes held out for a draw, despite being reduced to ten men in the dying seconds following another red card incident.
In short disappointment again, Stade Marville is becoming a bad omen for Red Star, with just one win at home all season. Promotion is virtually finished, the bottom of the table isn't too far away either. Outsung by the Valenciennes supporters, now is the time to get back to Bauer, to make visiting teams fear when they play Red Star. Marville, it's a place where clubs come to help themselves to points.
Attendance : 700. Ref : M. Avrinet: crap. Our verdict : 3/5, entertaining at least. MoM: Clément.
Red Star : Branger - CLEMENT - L. Mary - El Othmani - Senaya - Pizzo - Doukantie - Valéri - Akiana - Fellahi - Saci (Soudani). Subs : Oponga & Durand.
THE VICTORY OF HOPE By Gérard Valck
One could sense the pre-match tension. Indeed the match lived up to its dramatic potential. Both coaches were fully aware of the consequences of the game - for the loser the end of hopes of promotion, for the winner the possible start of something good. Easy to imagine the words of both coaches - snuff out the opponents. a chess match played on grass with footballers as the pieces.
No all-out attack from either side. Red Star tried the early cagey assaults, Hakim Saci weaving his stuff but alas coming to nothing. In the sixteenth minute, a solo run by Karim Fellahi starting some forty metres out resulted in a thunderbolt which rattled the woodwork. Red Star dominated, but only produced one other attack of note, a Senaya free-kick wreaking havoc in the sixteen yard box but once again the Paris defence escaped unpunished.
No real openings in the seond period, either. As a goalless draw loomed, in the dying seconds earned a series of corners, all drawing blanks. Finally, with one minute remaining, Saci played a neat one-two with Fellahi, and from his dead-ball line cross the Paris goalkeeper failed to gather and Vincent DOUKANTIE got a foot to the ball to steer it into the back of the net.
The last minute or so was somewhat lively, but Red Star had learned the lesson of previous matches (Beauvais, Reims, Thouars...) and wellied the ball to safety in order to preserve the three points. On one side, victory and joy, on the other a sickening blow, and withe the president displeased, heads are likely to roll in the cmong days. One derby victory, how about another on Tuesday at Colombes ?
Attendance : 500
Red Star 93 : Branger , Clément (Diawara 77), Senaya, Oponga, Doukantie, Pizzo, Fellahi, Valéri, Akiana, Mamoun (Milton 73), Saci.
Paris FC : Alaoui, Bassinat, Schreiner (Lacomat 65), Mendy, Beaumet, Faivre, Lima, Méziot, Mota, Soler (M'Bock 77), Guégan.
Unlucky thirteen for Red Star at a characteristically cold Colombes last night. After the hope, the disappointment. From the kick off Red Star laid into Racing, but floundered a little against a resolute and well-organised defence. However, on twenty minutes Saci was brought to earth in the penalty area, the referee pointed to the spot only for Vincent Doukantie to blast the ball high and wide of the mark. Just to run salt into the wounds, Racing carried the ball down into Red Stars' half, and from a right wing cross Branger failed to hold on the ball and Patrick Van Kets, Racings' prolific striker showed Red Star how to finish.
Red Star picked themselves off the floor, but despite winning a series of corners failed to make any impression on the light blue and white wall. The scond half continued much inthe same vein, with Red Star dominant, but with Akiana well shackled and Saci indulging in too many self-indulgent solo runs, the equaliser was never going to arrive. No chnages made, either, apart from Ludo Marys' enforced replacement of an injured Ben Clément.
Karim disappeared into the background for much of the second period, whilst there was always at least two men marking former old boy Richard Akiana. Red Stars' defence was hardly overworked, Pizzo ran around in midfield and even pushing Fabien Valéri forward in the latter stages failed to improve things. Red Star will rue Doukanties' spot kick miss - that would have surely cast an altogether different light on the procedings.
As Red Star start on their annual fight against relegation, one begins to wonder at the wisdom of keeping the coaching tandem of Repellini and Girard. It is now becoming obvious that these two aren't the ones to get Red Star out of the National. Perhaps a new approach is required. Whatever, things don't look too promising for Red Star. Unless, of course that is, if Pau get a good mauling on Saturday. Somehow, I can't see it.
Attendance : 500, Referee - Crap, although he did send off one Racings' players. Our verdict 2/5. MoM: Pizzo, although Racings' natty electronic scoreboard was brighter than any of the men in red...
Red Star - Branger, Clément (L. Mary, 66), Senaya, Oponga, Doukantie, PIZZO, Doukantie, Valéri, Akiana, Fellahi, Saci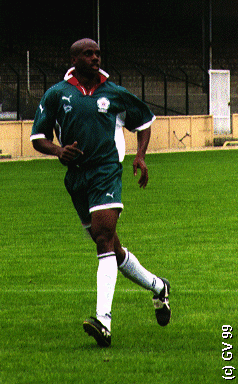 It is difficult not to feel pity for Pau after this match. In stark contrast to recent matches, where Red Star have played the opposition off the park, this time the roles were reversed. True, before the pause Red Star did look the livlier, and were rewarded after twenty odd minutes when the enterprising Durand crossed from the left, the Pau goalkeeper failed to hold on to the ball and Richard AKIANA was on hand to ram the ball home, in true " Sniffer " Clark style. Earlier Durand had threatened twice, whilst Doukantie flashed a long-range free kick wide.
The Pau coach, Pascal Planque must have said something to his charges at half-time, because they came out fighting in the second period. Indeed the Red Star defence were constrained to cope with some imaginative and creative forward play, especially from the outside right of Pau. Then there was the element of luck. Branger made a couple of good saves, then had the woodwork to thank as he was well beaten. Luckily the ball rebounded off the post and safely back into the arms of the Red Star custodian.
Pau are on a bit of a slide at the moment despite a bright start to the season, and once bad luck sets in, it hits hard. Such was the case, as whilst rueing their unfortunate denial by an upright, Mickaël PIZZO skipped round several Pau defenders and curled a beautiful shot past the oustretched arm of the away goalkeeper. Substitute Eric Obinna (photo), making his debuts wreaked havoc with his pace and strength in the latter stages of the game, deputising ably for the injured Saci. This poses problems for the coaching pair of Red Star. Obinna deserves his chance, but being Nigerian, the one non-EU player rule in the National excludes either himself or the Algerian Saci. Tough decision.
Not a classic performance by Red Star - they have played better and lost. But in the National, three points are very important given that most of their rivals could only draw today. Performance wise, Fellahi and Mamoun were anonymous, Akiana lacked quality service, Durand looked okay for the first half. Senaya in defence was replaced by Ludo Mary and the latter improved things a little, Oponga and Valéri kept the scoresheet blank despite one or two narrow escapes and in midfield Pizzo was very busy, capping his performance with a fine solo goal.
Attendance: 400 (less than a Unibond crowd). Ref: Whistle-happy. Our verdict: 3/5. MoM: PIZZO.
Red Star :Branger, Diawara, Senaya (L. Mary), Oponga, Doukantie, PIZZO, Durand (Obinna), Valéri, Mamoun (Milton), Fellahi, Akiana.
Away from the serious stuff of League business, and a detour to the fifth round of the cup. As it turned out, it could very well have been a short detour, too. Firstly, let's not take anything away from Villepinte - it is doubtful that they could ever play this well again. Not that Red Star weren't awful, but Villepinte played to their own strengths and very nearly pulled off an upset.
The opening skirmishes were largely dominated by Villepinte, but Branger was not really troubled. Red Star hit back , but succeded only in wasting good opportunities. Fellahi looked the most dangerous out wide on the left, but the home goalkeeper was having the match of his life. Obina failed to show the promise of his debuts against Pau, bu than again this wasn't a pitch for artists, more for Villepintes' enthusiasm.
Fellahi failed to appear for the second period, Saci taking his place, but too often Saci was frustrated by robust challenges or bad service. Then came the shock, after fifty one minutes. Following a defensive cock-up, the Villepinte centre-forward was left with a one-on-one with the Red Star goalkeeper, which he didn't waste, slipping the ball neatly under Brangers' body. Most of the decent-sized crowd celebrated whilst the Red Star contingent watch on, stunned.
The equaliser when it came was a sickener for Villepinte. Red Star won a series of corners, and from one the referee, Madame Sylvie Moissand making her debuts in the cup pointed to the penalty spot when a home defender controlled the ball with his hand. This time DOUKANTIE made no mistake, ramming the ball firmly past the goalkeeper. Depite the setback, and the fatigue, it was Villepinte who then bounced back. Red Star looked unoriginal and lacking in ideas in front of the goal despite a huge corner count in their favour. With the clock counting down the Villepinte number nine again found himself alone in front of Branger, but this time luck was not in his favour, then in the final seconds Oponga hoofed the ball to safety from under his own crossbar as a second goal seemed inevitable.
Finally in extra time the class difference showed. Villepinte, tired legs and with a defender playing on with a bandaged head wound cracked just five minutes into extra time. Saci turned inside the penalty area, and whilst defenders appealed for offside, MILTON slotted the ball past the goalkeeper to a stunned silence. Not even the Red Star supporters celebrated - the goal was a strange one to score. Two minutes later MILTON doubled his tally and secured the game, taking a pass from Saci then placing a neat shot into the net. No further goals, Red Star played posession football, passing it around and left the hapless Villepinte chasing shadows. Durand substituted the substitute Saci, but 3-1 was the final score.
Red Star were poor, but take nothing away from Villepinte - heros to a man. Bravo, and bravo for a match played in a sporting atmosphere by players and supporters alike.
Attendance: 700. Referee : Madame Sylvie Moissand (efficient). Our verdict : 3/5, well played Villepinte. MoM: Doukantie.
Red Star : Branger; El Othmani; Senaya; Oponga; L. Mary; Diawara; Obina; DOUKANTIE; Milton; Fellahi (Saci then Durand); Mamoun. Not used: Déom.
One hundred minutes of football, one sending off, Repellini banished from the touchline, a magnificently-executed goal from Richard Akiana and pouring rain - not bad for thirty francs !
As is the normal, Red Star started out brightly against Evry, woeful in attack but strong defensively. No real danger for Red Star, but a couple of good chances for Red Star went begging. Akiana failed to get on the end of a Saci cross then Fellahi shot wide. Then came the turning point. Saci, who had earlier been booked for a reckless challenge let his frustrations boil over and brought down a defender. Red brandished, Saci dismissed. The last quarter of an hour of the first half petered out with the large contigent of Red Star supporters expecting the worst.
Evry, clueless in from of goal failed to turn the screw, and with twenrty five or so minutes remaining, Red Star produced arguably the best move of the night, involving Fellahi and AKIANA. A swift one-two released the burly Red Star striker, who fired home past the Evry goalkeeper. Afterwards, it was virtually all one-way traffic. Oponga and Valéri led by example and a combination of resolute defending and a bit of luck kept out the home teams' strikers. A couple of dodgy refereeing decisions appeared to infuriate coach Repellini, and the referee thus instructed half of the Red Star coaching team to watch the remainder of the match from the stand. More injury time to add on. Next, a lucky escape for Red Star. Branger appeared to lose a cross under pressure, and the ball seemed to cross the line. However the referee had spotted a foul and the goal was disallowed. Then came ten minutes of injury time, the man in the centre seemingly wanting to add enough time for Evry to equalise.
Red Star held out. A word here for substitute Obina, alone up front for the last twenty minutes. He did his utmost to hold the game up at the front, on numerous occasions battling against the odds. Branger was commanding in goal and deserved to keep a clean sheet. On another night when the results went Red Stars' way, three vital points. As for Evry, the struggle to avoid the drop is going to be a long one. Their stadium, while being ideal for Summer athletics is far from ideal for a little club with few supporters. Not helpful at all.
Attendance : 350 (mostly Red Star !). Referee: Petty. Our verdict : 3/5. MoM : OPONGA.
Red Star : Branger; Clement; L. Mary; OPONGA; Doukantie; Pizzo; Durand (Diawara); Valéri; Saci; Fellahi; Akiana (Obina). Not used - Senaya.
No mistakes this time - effectively the match was all over after only thirteen seconds. Virtually stright from the kick-off Eric Opinga linked up with Fellahi, and walked through the home defence as if it wasn't there. OBINA slotted the ball neatly under the goalkeeper to open the score. Five minutes later and another nail was hammered in to the coffin. OBINA again firing home to double Red Stars' advantage. Montreuil had barely got into the game when they were reduced to ten - as Akiana broke free he was wresteled to the ground, the referee felt by the last defender, so no option but a red card. At ten, the game was dead, at nine, even more so. Only minutes after the first dismissal, a robust challenge on the equally robust Clément earned the home number six an early bath, as prompted the offender to wreck the dressing room door on the way.
No more goal before the break, but a fine display of goalkeeping by the home goalkeeper, Cornet, a product of the Red Star youth policy. Instead of being ten down, his exploits gave his team-mates a slender chance. During the break, the referee failed to appear, no doubt having buggered off home early to avoid having to cross the two Montreuil players he had earlier dismissed !
Montreuil did show occasional glimpses, but it was largely one-way traffic. Only the exploits of Cornet kept Fellahi and co at bay. Finally AKIANA showed the way, a neat finish, which he repeated moments later, beating Cornet from close range (0-4). The fifth came from the spot after Fellahi fell over, LESTIC making no mistake to score his first goal for the first team.
Voilà, great value for money and Red Star safely into the next round, where the " big boys " of the second division arrive. Man of the match was the outstanding Cornet, but for Red Star a faultless performance. Branger made one fantastic save too, and at the centre of the defence, Thiam made a solid debut. Oponga was imperial, Clément excellent, Doukantie classy and up front Fellahi searched vainly for a goal, although he deserved one.
Spectators : 800 (lovely ground, too !). Referee : which one ? Our verdict : 3,5/5. MoM: Fellahi.
Red Star :Branger; Clément (Diawara); L. Mary; Oponga; Thiam; Pizzo (Abda); Obina; Valéri; Doukantie; FELLAHI; Akiana (Lestic)
Red Star finally did what they have been threatening to do all season and annihilated the opposition in the league. A worthy victory, spoilt only by a goal conceded when the match was already won and the home side had gone to sleep a little.
Pacy, like the last visitors here Pau are on a bit of a slippery slope at the moment, and Red Star duly profitted from this. Straight from the kick off Red Star mounted the pressure, but had to wait fifteen minutes for the first goal. Akiana tried his luck, the ball was parried away by the Pacy goalkeeper as far as Karim FELLAHI, who from some twenty metres out returned the ball back over the goalkeepers' head and into the net.
Minutes later Red Star sprung the feeble Pacy offside trap to leave DOUKANTIE with a one-on-one with goalkeeper Bisson. No mistake, a cool confident finish and a second goal. Again Red Star swarmed forwards, Clément powerful, Valéri combative but no furthe goals until three minutes from the interval when Fellahi was sent clear, decided to go round the advancing Bisson. Such is the confidence in the Red Star strike force these days, FELLAHI lost the goalkeeper and slide the ball home.
With the game killed off by half time, Red Star let Pacy come back into the game after the break, and the visitors were rewarded for their persistance with a consolation goal from Desportes after a series of corners. This had the effect of making Red Star like a wounded animal, and its response was to storm down the other end and for SACI to punish Pacy even further.
A comprehensive victory, three very important points, in preparation for an awkward trip to neighbours Noisy-le-Sec on Saturday. Positive notes - Clément was excellent, Fellahi had one of his best games and showed maturity, Thiam and Oponga make a formidable partnership at the back, Valéri was combative and it was ggod to see the return of Laurent Delanoue after a long absence. On the down side Doukantie despite scoring looked a little jaded and never really got into the game and Red Star really should not have let Pacy get back into the game.Mustn't grumble, though.
Att. : 400, seemed like more. Ref : M. Goulu. Our verdict : 4/5. MoM: Karim Fellahi.
Red Star 93 :Branger, Clément (Delanoue 81), L. Mary (Sirufo 71), Oponga, Thiam, Pizzo, Doukantie, Valéri (Saci 67), Obina, FELLAHI, Akiana.
Coach : Repellini & Girard.
Pacy-sur-Eure : Bisson, N'Tounou, Bellanger, J. Desportes (El Hajri 57), Kouakoua, Larcier, Jenni (Sylva 67), Bechitoura, Cuvier, Vimbouly, T. Desportes.
Coach : Hatton.
by Gérard Valck, translated by JWH
A great week for the Verts et Rouges (in green Tuesday at Lille and red against Noisy), in five days Red Star turned in two superb performances. On Saturday at Noisy, in zero degrees Red Star negociated a tricky test in the local derby.
Firstly, a comment on the beahviour both on and off the field... a sporting and convivial atmosphere giving true meaning to the word sportsmanship.As for the action, one wondered at the start how the Red Star players would react following their exploits at Lille.
The opening exchanges were largely unremarkable, both sides sounding each other out, but after twenty five minutes Red Star shook themselves into action, Doukantie seeing his free kick palmed away by home goalkeeper Chauray. But as soon as awakend, back to sleep and the first half ended goalless.
The scond period opened more lively, Red Stars' midfield and strikers stepping up a gear. But Noisy hit back and enjoyed the best chances, Branger spilling a shot before the defence hacked the ball to safety. The visitors took this as a warning, however, and stpeed on the gas. A rasping drive from Thiam was well held by Chauray, Saci dribbled into a dangerous position but was checked by the goalkeeper, then in the 62nd minute Saci was bundled over some twenty meters out. For once Red Star got the dead-ball situation right and captain Fabien VALERI fired the free kick home to open the score. A boost for the visitors who had succeded in penetrating the Noisy defence.
Once again Noisy put Red Stars' defence under pressure, but the red wall held firm. Girard changed things around a little, bringing on Karim Fellahi in place of Eric Obina. A master stroke as Fellahi started to pick holes in the home defence. In the 73rd minute a tempting Karim cross was accepted gratefully by Richard AKIANA, netting his sixth of the season. This virtually won the match for Red Star, barring disaster.
Sirufo and Delanoue entered into the fray, and contributed to the victory. A good all round performance, especially defensively, reinforced by the arrival of Thiam. In midfield Valéri aided by Pizzo and Doukantie were majestic, and as for the strike force, Akiana, Saci, Fellahi and Obina have the ability and the know-how to break down even the stubbornest defences.
A vital derby win which puts Red Star fifth, six points behind leaders Besançon who could only manage a no-score draw at Racing, one point ahead, and three points behind Istres, losers at Pacy and Beauvais. In the space of one month, Red Star are back in the promotion battle, but watch out for the returns of Valenciennes, victors at Evry and the next visitors to Marville, Martigues, 4-2 vainquors of Grenoble.
Attendance : 600; Referee : M. Galleti; Our verdict : 3.5/5; MoM : Thiam.
RED STAR 93 : Branger, Clément, Mary L (Delanoue 89), THIAM, Oponga, Pizzo, Valéri (Sirufo 78), Doukantie, Obina (Fellahi 68), Saci, Akiana.
A WIINING RETURN UP NORTH
By G. Valck
Just days after their memorable win in the League Cup at Lille, Red Star 93 overcame the obstacle of Marc-en-Baroeul in the French Cup. A difficult match, the cup being a great leveller. (Just ask Nice)
Red Star again started brightly, but fell asleep, allowing the Nordists to come back into the game. In the 42nd minute, from a corner, Bahyia flapped and Red Star somehow managed to escape unpunished. From the wrong side of the perimeter fence, Pierre Reppelini, still banned, yelled out his orders which fell upon deaf ears. With the midfield all at sea, the first forty five ended goalless.
The turning point of the match came on the hour when Doukantie sent Akiana clear, who then lost out to his marker. Fortunately for Red Star, a cock-up between defender and goalkeeper resulted in AKIANA being free to tap the ball into an unguarded net from a tight angle.Quarter of an hour later and A fierce Fellahi cross was spilled by the goalkeeper for AKIANA to poach his second goal.
With five minutes remaining, handball in the Red Star penalty area, and Doucet fired home the resultant spot kick. Temporary joy for Marcq, however as virtaully straight from the restart SACI set off on one of his speciality runs, weaving round the defence before beating the home goalkeeer. Red Star 93 thus through to the eight round, to be played the 18th & 19th December.
Attendance : 800 - Ref : M. Cambraye. Note : 2,5/5. MoM : Akiana (for his two opportunist goals)
OLYMPIQUE MARCQUOIS : Ale, Pavlack, Dupont, Lebief, Bourgeois, Mérabet (Elammari 77), Larivière, Dolignon, J. Notot, S. Notot, Doucet. Coach : Laurier.
RED STAR 93 : Bahyia, Clément (Sirufo 81), L. Mary, Thiam, Oponga, Pizzo (Milton 69), Durand (Saci 76), Valéri, Doukantie, Fellahi, AKIANA. Coaches : Girard et Repellini.
Red Star had to battle hard for a point and in the end were rewarded for their efforts with a well taken goal from Karim Fellahi.
A certain amount of confusion amidst the defence earlier had proved costly for the home side, as a lively Martigues first failed to convert a simple chance, then were denied by a linesmans' flag. Thiam and co failed to heed the warnings, however, and as the usually-reliable Jean-Marc Branger failed to hold a low cross, Aït Atman was on hand to ram the ball into the net (0-1).
Red Star responded with some good attacking moves but were up against a very well organised defence. Behind this the talented Padovani in goal cleaned up any danger. As the rain drifted across Marville, it seemed that Red Stars' unbeaten run was going to end. Saci set off on numerous runs, usually failing in trying to achieve too much. Akiana was having a rough ride at the hands of a tough defence, not helped at all by some awful refereeing. Saci and Akiana were both booked for diving, whilst the central defenders escaped scott-free despite meating out some rough-stuff.
Valéri was missed somewhat in the midfield, although Pizzo looked lively. Doukantie never really got into the game, then with abouth twenty minutes remaining, a key moment in the dismissal of a Martigues' defender, Leroy for two bookable offences. With their numerical superiority Red Star swarmed forwards, Thiam and even Oponga joining in. From a good movement the home side drew level, as FELLAHI fired home a low shot past Padovani. Minutes later Thiam had the ball in the net only to be ruled out for an offside. At the other end Branger nearly found himself stranded with a hopeful lob, then hes had to punch away a powerfully driven free-kick.
At the end points shared. Martigues are one of the better sides to have visited Marville, so a good test for Red Stars' promotion candidacy. Delanoue had a fine game at full-back, Thiam is a master of the defence, Pizzo was busy in midfield, and full marks to Milton, making his first start. Now Red Star must profit from a trip to Ajaccio on Saturday.
Attendance : 500. Referee : M. Malige (petty). Verdict : 3/5. MoM : Karim Fellahi.
Red Star 93 : Branger, Delanoue, Mary, Oponga, Thiam, Pizzo, Milton, Doukantie (Abda 82), Saci, FELLAHI, Akiana. Entraîneurs : Girard et Repellini.
Frejus made Red Star work hard on Saturday, but in the end the right team won. Played in apalling conditions, firstly a strong wind then torrential rain, Red Stars' defence dominated and proved that last Saturdays' defeat in Corsica could be just a momentary lapse.
Two penalties from the boot of Richard Akiana either side of the break sufficed - the visitors dominted procedings in the second period but not really troubling Jean-Marc Branger. Aided by a strong wind Red Star held sway in the first half an hour without scoring. Then the impressive Laurent Delanoue hoisted a long ball into the Fréjus penalty area where a defender was rather harshly adjudged to have handled the ball. Penalty awareded, AKIANA hitting low and hard sending the 'keeper the wrong way.
The visitors hit back, forcing a series of corners, but Thiam was having a good day, aided by Oponga, and any danger was soon cleared.The back four, all magnificent despite Clément playing out of position on the left.
A well deserved break at half time, a change of shirt then on again with the game. Fréjus taking adavantage of the following wind put pressure on Red Star but a counter attack led by Akiana and Saci led to Red Star doubling their lead. Saci lost his defender, drew the goalkeeper wide, but as the Red Star man attempted to skip past the Fréjus custodian, the latter brought down Saci, another penalty. AKIANA adjusted his kick, and scored despite the goalkeeper getting a hand to the ball. At 2-0 Red Star cruised, absorbing the pressure. Branger was called into action to turn a dangerous shot for a corner, but led by Thiam, the clean scoresheet was preserved.
With Racing slumping at home to Martigues, a result which makes Red Stars' draw look respectable, Besançon only drawing and Istres losing, Red Star are right back in the thick of things.
Attendance 400. Referee : M. Legrain (pedantic). Verdict : 2/5. MoM: Pizzo
Red Star : Branger - Delanoue, Clément, Oponga, Thiam - PIZZO, Doukantie (Durand), Valéri (Sirufo), Saci, Fellahi (Milton), Akiana.
In the pit town of Avion, in front of a crowd of 1800, Red Star 93 earned a ticket into the next round to be played the 22/23 January 2000. Nice to be back in Avion, three years after our last trip to the Stade François Brin, a proper football ground with a good atmosphere. For ninety minutes the spectators present contributed to an enjoyable afternoon of football.
Unbeated since the start of the season, Avion hold a six point lead over their rivals in the chade for promotion to the CFA 2. Eight players from the superb 5-1 victory against Caen in the Regional Cup took their places in the starting line-up today.
Les Verts started the game brightly, a first minute move culminated in a good chance for Fellahi, linking up well at a free-kick with Ludo Mary. After ten minutes play, Fellahi came close with another good chance, followed by a free-kick from Gosse saved well by Red Stars' Branger. The visitors hit back, and from a 21st minute Fellahi cross, Mamoun saw his effort flash just past the goal. Shortly after, Milton sent AKIANA on a counter-attack, and the burly Red Star forward opened the scoring. The advantage was to be short-lived, however, as Avion striker Favier lost Mary before firing past Branger.
In the 32nd minute, a Fellahi corner was met by Thiam but no goal then at the other end Branger was called into action to dive at the feet of former Dunkerque professional Traché. As the clock ticked towards half time, Akiana sent MAMOUN free, and the latter rifled a shot past Wartel to give Red Star the lead again at a vital moment.
Red Star went on to dominate, Clément coming close following good work by Pizzo. Doukantie replaced the injured Mamoun, then Avion stormed back into the match. Branger injured himself yet again, but denied Pochot and Chmiel several times. So Red Star progress into the next round, and a new millenium.
Attendance : 1791. Referee : M. Rodolphe. Our Verdict : 3/5 - MoM : Branger
RED STAR 93 : BRANGER, Mary, Clément, Thiam, Oponga, Pizzo, Mamoun (Doukantie 58), Sirufo, Milton (Durand 74), Fellahi, Akiana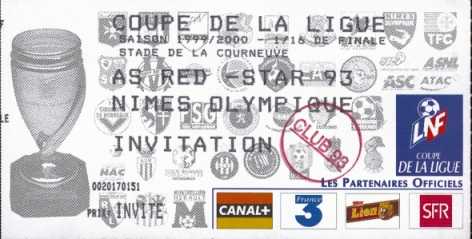 Completely ignored by television, Red Star gave a memorable performance against divsion two high-fliers Nîmes to progress to the next round of the League Cup. Hampered also by some atrocious refereeing, the Verts overcome the odds and sent the faithful home happy.
France 2 television opted for the match Auxerre-Monaco, a turgid affair settled on spot kicks after two hours of dull football. They missed the boat completely - six goals, one sending off and the "minnows" triumphing at Marville, far better entertainment.
It took forty minutes for Red Star to wake up and to realize that the visitors weren't THAT much better. Saci started to expolit the spaces, and together with Karim started posing a real threat to a resolute Nîmes defence. Just before the break Red Star should have taken the lead, but Saci squanderd a good chance.
No goals at the break, but just five minutes into the second period, Red Star deservedly took the lead. Some good approach work led to DOUKANTIE glancing a header past the visitors goalkeeper. Ten minutes later, the Marville faithful were sent wild by a slick passing move which allowed AKIANA to finish clinically. The celebrations for the goal were reminiscent of Bebetos' in the '94 World Cup finals, Akiana becoming a father this week. Shortly after,Fallahi should have wrapped things up but his shot hit the post before bouncing back to the goalkeeper.
The celebrations were to be curtailed minutes later as Pagis, D2 leading scorer looped a header over the head of Branger and into the net. Nîmes piled on the pressure, but their task was not to be helped by the dismissal of one of their number for a second bookable offence. Despite reducing the visitors to ten, the referee then attempted to make up for the shortfall in numbers by awarding a series of free kicks to Nîmes, mostly in or around the edge of the Red Star penalty area. From one of these, Pagis equalized, driving a low shot past the wall. Disgust and strong words from the Red Star supporters.
So into the extra time, and Red Star dominant. Akiana failed to appear for the extra time, and instead Milton made his entry. This was to be the turning point, and a brilliant stroke of tactics by the Red Star coaches. Against a tiring defence, MILTON expolited the weary limbs and sent the supporters into raptures with a well taken goal, cooly finishing. Again Nîmes were awarded a series of disputable free-kicks on the edge of the box, but Thiam and Oponga held firm. Finally, MILTON put the icing on the cake with a fourth goal, rounding the Nîmes goalkeeper to seal the win.
An unforgettable night at Marville, only the second such, the first being last seasons' 3-2 victory over Sedan. A wonderful team performance, spirit and energy and a will to win.
Attendance : 700. Referee : M. Bailleuil. Our Verdict 4/5 - MoM : Doukantie
Red Star: Branger - Clément; Delanoue; Oponga; Thiam; Sirufo; Doukantie; Saci; Akiana; Fellahi;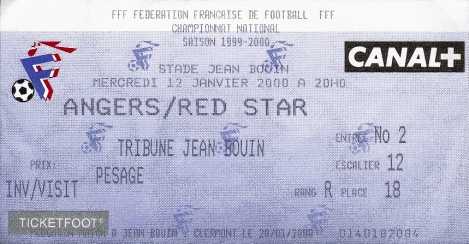 If Red Star persist with performances like this one then the season is all but over. This was awful. Atrocious. Execrable. But, let's not take anything away from Angers, who will probably have difficulty in turning in an excellent performance like this again.
Angers is a pretty town, clean and friendly, the ground itself is smart, two stands very similar in style to the old ones at Coventry City and two open banks behind the goals. Not as many spectators as they normally get, but given that Red Stars' travelling support ammounted to ten souls, and the fact that it was bloody freezing tonight didn't help fill the seats.
Angers went for it stright from the word go, and were rewarded after nine minutes when Delanoue was completely out of position, and the Angers left winger rammed the ball past Branger. The home side swamped Red Star, exactly as they did in the match in August at Marville. The lead was doubled as Clément made an uncharacteristic error and from the left this time, the ball was fired through the body of Branger and into the goal.
The second half carried on the same story, Angers dominance everywhere on the pitch, before Branger pulled down an Angers striker in the eighhteen yard bow, and Molinier smashed home the penalty. Repellini threw on Milton in place of Valéri, but to no great advantage as hopelessly outnumbered in defence, Red Star conceded a fourth, Molinier diving to head home a rebound off Branger.
So, three hours and three hundred kilometers and an afternoon off work to watch a pasting. Red Star were never in it. Doukantie gave the exact opposite performance to what he had given against Nîmes, Akiana touched the ball about three times during the match, and then only to retieve the ball after being given offside. Oponga seemingly had his mind on other things - the African Nations Cup is going to decimate Red Stars' potential in more ways than one. Only Abda tried, and Karim occasionally. It could be said that Red Star just don't like the cold. The visit of Besançon on Saturday is exceedingly ominous, now...
Attendance - 1500; Ref. M. Somps; Our verdict 0/5; MoM Abda.
Red Star 93: Branger; Clément (Sirufo), Delanoue, Oponga, Thiam; Pizzo, Doukantie, Valéri (Milton); Abda, Fellahi (Durand), Akiana

They came, they sawe, they conquered and bored us all shitless in the process. Besançon, one of the top dogs in the division showed just why thay are a successful National outfit - they are just plain unimaginative, exactly like Racing and all the others. Red Star dominated totally the second period, and large chunks of the first, but just could not turn territorial advantage into goals.
A period of five minutes just before the break was all that the visitors needed to wrap up the game - firstly a striker shot across the face of the goal with Red Stars' defence lagging behind, then as if as to make amends, Isabey fired a shot under the body of Branger seconds later and the die was cast. This time, as at Angers, Delanoue was largely to blame for his being totally out of position.
A much changed side following Wednesday nights' debacle - Clément and Abda, faultless in comparison with others carried the can and were replaced by Sirufo and Saci, returning from injury. The latter only lasted forty five miutes, replaced by Tacalfred, making his debuts. Another substitute was Aziz Belissaoui, also back from injury. Meïté returned to central defence, alongside Thiam, whos distribution of the ball was lousy to say the least. Another anonymous performance from Doukantie, perhaps the time has come to give him a rest, it is after all his first season in the big time and has rarely missed a game.
The only bright spot was the performace of Karim, who wanted to score, but was denied by bad luck and some last gasp defending by Besançon.
Attendance : 500; Ref : M. Bonnichon; Our verdict : 2/5; MoM; Karim Fellahi.
Red StarBranger - Sirufo; Delanoue (Tacalfred); Meïté; Thiam; Pizzo; Doukantie (Belissaoui); Valéri; Saci (Mamoun); Fellahi; Milton.

A sudden torrential downpour of rain was justification to have paid eight quid to site in the cramped little main stand at Saint-Leu in the Parisian suburbs for this local derby. Opposite, what could be the makings of quite a nice stand, only nothing between the roof girders. Behind one goal a cowshed full of pre-pubescent Levallois supporters bussed in for the day, and behind the other, the half dozen or so of the Kop of Bauer, huddled miserably on a grass bank. So, in a stadium which would struggle to get a Unibond League rating, the mighty Worksop Town, oops sorry I mean Red Star 93 tried to keep their cup campaign ongoing.
This was always going to be a tough one - Levallois were obviously geared up for a fight, and on a pitch which started off as a potato field and went downhill from thereon a shock was likely. In the first half Red Star were hopeless, and some defensive errors nearly cost dearly. Up front, the combination of Durand and Obinna never worked, and never threatened. At the other end, Branger did his now-customary "lets' spill the ball" routine, but the Levallois forward was second best to the rebound. Later he redeemed himself with a fine save, diving to turn the ball round the post following a neat move by the team from the CFA 2.
Half time, and following a spirited debate in the stand between pro-Forêt and pro-Branger elements of the Red Star support, Milton took the place of Obinna, to little effect. Sirufo was given a hard time by the little Levallois number seven, a type not dissimilar to the early days of Akim Saci. The it seemed that Levallois had let the occasion go past them. Legs became heavy and tired in the mud and Red Star looked more likely winners. Pizzo, industrious as ever embarked on a a fine solo run, earning a corner, from which Brahim THIAM, back to his old stomping grounds rammed home a powerful header. Just about deserved, but it led to a hectic last five or so minutes, when Levallois pressed, forcing some errors and panic in the red defence. Clément had to belt the ball out for a corner after Mamoun had rolled a pass neatly into the path of a Levallois forward.
Whatever, a win is a win, especially in such atrocious conditions. The deluge at the end of the match prompted a sprint back to the car, which rewarded it's occupants with a failed exhaust pipe on the return home.
Attendance : 800; Referee: M. Launay; Our verdict : 3/5 (we won, anyway); MoM: Thiam, with karim pushing him a close second.
Red Star 93: Branger - Clément - Sirufo - Meïté - THIAM - Pizzo - Mamoun - Valéri - Obinna (Milton) - Fellahi - Durand (Belissaoui). Not used - El Othmani.

LEAGUE CUP SENSATION : RED STAR KO FIRST DIVSION BIG-BOYS.

The last time Red Star eliminated a team from the First Division was in 1964 - on Saturday, thirty six years later the legendary Saint-Etienne make their exit from the League Cup, and what's more impressive, on their own patch ! Despite missing a large chunk of the regular line-up through international duty and suspensions, Repellini and Girards' makeshift heros proved themselves to be up to the job in front of nearly fifteen thousand partisan home supporters.
Straight from the kick off Red Star went for the jugular. Home goalkeeper Montanier saved at the feet of Milton, but from the resulting corner, OBINA powered home an unstoppable header. Stunned silence in the kop behind Montanier, Red Star supporters overjoyed to see the scoreboard read Saint-Etienne : 0 - Red Star 93 : 1.
As half time loomed, deep into injury time FELLAHI doubled the lead with a twenty-five yard rocket into the roof of the net. The fantasy continued...
A miserable long walk to the dressing rooms for Saint-Etienne, and no doubt a roasting from coach Nouzaret. Several half-time changes to Saint-Etiennes' line up before Pédron reduced the score after an hour of play. The local supporters began to get behind their team, but twelve minutes later MILTON lobbed Montanier from twenty yards, and the job now appeared tough for the Greens. Then the action appeared to revolve solely around Jean-Marc Branger in the Red Star goal. Firstly a goal line save was hotly disputed by Saint-Etienne, convinced that the ball had crossed the line, then the referee waved a yellow card at the goalkeeper for time-wasting. Minutes later Branger left his penalty area, handling the ball in the process. No option for the referee but to give a second yellow and Branger walked. Bellissaoui, who had come on as a second half substitute gave his place to replacement goalkeeper Gilbert Bahyia. A baptism of fire, but led by heroic captain Fabien Valéri the defence held out. Finally, after injury time the match came to an end, with the incredible result of a victory for the National club in the "Cauldron". As they left the pitch they were given a warm reception by the home supporters, and the 29th of January 2000 will go down as a remarkable day in the history of Red Star.
Ref : M. Moulin - attendance 13751 MoM : everyone ! Bookings : Branger 81 then dismissed 83 Our verdict : 4.5/5
Saint-Etienne : Montanier, Billong (Llacer 46), Carotti, Meslien, Grondin, Boudarène, Ferhaoui, Dobo (Pédron 46), Masudi (Revelles), Alosio, Alex. Entr. Nouzaret.

Red Star 93 : Branger, Clément, Meïté, Valéri, Tacalfred, Sirufo, Doukantie, Fellahi, Mamoum, Milton (F. Diawara 85), Obina (Bellissaoui 60, Bahyia 83). Entr. Girard & Repellini.

Just one week after glory at Saint-Etienne, Red Star come back to earth with a lifeless goalless draw at home to bottom club Raon. In what could be one of Red Stars' last chances of promotion, the match turned into a missable dirge.
For this match, Girard and Repellini kept the side that had beaten Saint-Etienne, with two enforced changes; Bayiha in for the suspended Branger, and Thiam in for the injured Obina. Captain Fabien Valéri thus took up his customary midfield role, Thiam forming a central defensive partnership with Meïté.
After several minutes play, it became obvious that all was not well - against lowly clubs the aim is to score an early goal then go on and bury the opposition. In addition, the match was interrupted following the injury to referee and his subsequent replacement by the linesman.
The match never really got going, not much to report in front of goal other than a couple of half-chances falling to Milton. In all honesty the best chances came to Raon, but a side which has only scored three goals away all season was never going to seriously threaten Red Star. Logically a goalless draw was on the cards, and thus was the case. In all a forgettable match.
Attendance : 600 - referee : M. Djouzi (Castellani 27) - bookings : Tacalfred (45) - Marcilly (60) - Our verdict : 1/5.
RED STAR 93 : Bayiha, Clément, Meïté, Thiam, Tacalfred, Sirufo, Valéri, Mamoum (Belissaoui 68), Doukantie, Milton (Lestic 83), Fellahi. Coaches : Girard & Repellini.
RAON-L'ETAPE : Henry, Blondeau, Rauturier, Marinkov, Billoir (Nancy 73), Toraman, Debord, Livramenko (El Khallouki 73), Marcilly, Marchandé, Violant (Didier 73),. Coach. Ollé-Nicole.

In throwing away two points at Reims, Red Star 93 also appear to have thrown away the last chance of promotion. At Stade Auguste Delaune, virtually a ruin, a decent number turned out for this match, but left disappointed with a goalless draw.
Red Star rang the changes, the defence consisting of Meïté-Valéri, with Tacalfred and Delanoue at full-back, the latter in for Clément.
The match started brightly enough for both sides, with some neat moves, particularly from Red Star. But to no avail. In the sixth minute, from a Doukantie corner, Milton flashed a header just wide. Karim Fellahi tormented his shadow, who proceeded to kick lumps out of Karim. Obviously the referee took exception to this and awareded a succession of free-kicks to Red Star, much to the chagrin of the partisan local crowd. At half-time, Red Star were ahead on points, to use boxing parlance.
In the second half, despite a shot from Delanoue (54) and an Akiana lob (71) the match is evenly balanced.
In the seventieth minute a Reims defender is shown the red card, for a foul on Akiana. Down to ten, the home side instead of resorting to defence, step up a gear and become more dangerous. The visitors fall back without falling behind, depite a good effort from Coquelet a quarter of an hour before the end. Red Star fail to make a substitution, and at the end of the game, both sides share the spoils in a fair 0-0 draw. With a little more emphasis on attack, for Red Star the three points were there for the taking.
Perhaps the most worrying is the fact that Red Star have failled to find the net in four consecutive league matches.
Attendance : 2000 - Referee M. Cailleux - Our verdict : 2,5/5 - MoM : Tacalfred - Bookings : Sirufo (80) - Fellahi (83)
RED STAR 93 : Branger, Delanoue, Meïté, Valérie, Tacalfred, Sirufo, Doukantie, Mamoun, Fellahi, Akiana, Milton.

A Jeckyll and Hyde team, Red Star. After a dull nil-nil last week at home to lowly Raon, this week Red Star make headline news in eliminating top-flight Le Havre. And to be honest there was only ever one team in it. To a neutral observer, one would have thought that it was the team in red who represented the higher echelon. Our heros fought for every ball, contested every tackle and showed a determination to win sadly lacking in other matches.
Karim Fellahi exemplified this spirit. Aided by Tacalfred and Sirufo, in a playmakers' role for a change, in for the injured Pizzo. Ten minutes before the pause, after Red Star had seen a couple of chances go narrowly wide, FELLAHI picked up the ball in the left side of midfield, set off on a mazy run, and from our vantage point, overlooking his right shoulder, the shot he placed past Hamel was true quality.
After the pause, Red Star again continuted to be the most threatening, and Vincent Doukantie, showing maturity beyond his years saw his looping shot tipped over the bar by the Havre goalkeeper. In front of Branger, Thiam and Meïté were majestral, aided on occasions by captain Fabien Valéri, and up front Akiana was a handful for the somewhat lightweight central defensive pairing of Le Havre. Tacalfred could be yet another revelation unearthed by the coaching staff, and Karim was supreme. For Le Havre, Xavier Gravelaine provoked more mirth than danger, whilst Branger was never really troubled by the crosses in a swirling wind on a distinctly inhospitable afternoon in Paris.
So jubilation for Red Star, more despair for the visitors, now embroiled in what could be a long fight against te drop from the top flight. As for the victors, they can look forward to te tension of another cup draw, and the anticipation of a potential big pay-day.
Referee : M. Fraise - attendance 2500 Our verdict: 4.5/5; MoM : no one individual, a fantastic team performance, but a mention nevertheless for Karim Fellahi, who epitomised the spirit of Red Star
Red Star 93 : Branger, Clément, Meïté, Thiam, Tacalfred, Sirufo, Valéri, Doukantie, Mamoum (Abda 81), Fellahi, Akiana. Coaches Girard & Repellini.
LE HAVRE : Hamel, Brinquin (So. Diawara 67), Deloumeaux, Hénin, Weber, Debève (Deniaud 46), De Neef, Mansouri, Lesage (Brahami), Gravelaine, Becanovic. Coach: Smerecki.
What can you say ? Yet another fantastic victory, against all the odds ! Red Stars' cup heros battle through to an semi-final, just one match away from a return to the Stade de France !
It's very hard to compose a balanced and lucid report of events at the match - the excitement tends to distort the cold facts. But when the final whistle went and the hundred or so travelling supporters danced with joy the fact is that the boys in red won, and fairly and squarely.
Within five minutes of the kick off, the improbable happened - a well judged through ball, a bit of clever footwork and a deft lob from Richard AKIANA from some twenty yards out which drifted over the head of the Sedan 'keeper Regnault, somewhat out of position. From our vantage point at the other end, poorly positioned in one of the worst away enclosures in French football it seemd as if the ball had sailed over the bar - typical of our luck - but no, the red shirts were celebrating and the large home following were stunned into silence.
The match hotted up, the pitch deteriorated into a surface unworthy of a potato field, and still Sedan could not breach the red wall. Quint, Deblock and the excellent Verschuere toiled in midfield, but Valéri, Meïté and Thiam were solid in response. A key moment came midway throught the first period when Sedan were awarded a penalty for a Red Star player bundling over a Sedan striker - in the confusion names have been forgotten. Up stepped DiRocco, but despite meticulously wiping the white spot clean, his firm low drive was held by the diving Jean-Marc Branger. Again stunned silence from the Sedan supporters, delirum in the cage in the corner.
The pause, Red Star leaving the arena to a standing ovation from their supporters. As the second period got under way, the referee continued to award a series of disputable free-kicks to the home side, often in dangerous positions. Still, Branger defied the strikers and not even the introduction of top marksman Cedric Mionnet could break down Red Star. Substitute Laurent Delanoue cleared off the line, Branger pulled off a remarkable finger tip save, then at the other end Red Star menaced a tiring Sedan defence. Akim Saci, on as a substiture for Mamoun used one of the only strips of green grass remaining to harass the Sedan full back, and the Sedan goalkeeper was forced into a couple of good saves.
Despite the addition of an extra five minutes stoppage time (from where ?) the referee could not further help Sedan, and as the final whistle went, and the disgruntled home supporters trudged off home, the away section erupted, with celebrations between fans and players.
A fantastic day out, a fantastic win. And in front of live television. Now the accolades and the brickbats. Firstly, praise to the Sedan supporters. The atmosphere before and during the game was fantastic, supporters all around the ground joined in to make the event a festival. After the match, as the Red Star supporters' busses struggled their way home through the traffic jams, the Sedan supporters lining the route on their way home waved and gave thumbs up signs to us - sporting to the last.
Supporters such as that deserve a far better stadium then they have now, and the ongoing building works behind the old stand should soon fix this. The ground is a dump, one of the worst in the league. Along one side of the pitch is a covered bank, the middle section has a few seats, behind are a few hastily-constructed "executive boxes", either side is standing. Behind the goal at one end a few steps, opposite are three separate stands, the two wing stands are "temporary" metal framed seating, with a box roof and supporting pillars, whilst the middle section is the old main stand, accomodation for fifty or so, but set well back from the pitch. Behind the other goal is covered metal seating, a fifth of which is allocated to the away fans, segregated by fences and an anti-missile net. Pillars obstruct the view, and the area is generally unsatisfactory. The toilets are revolting, there was no food laid on at all, and together with a large police and steward presence a tad intimidating. We arrived at the ground ninety minutes before the kick off, had no choice but to walk the ten feet from the bus to the gate then were fenced into this cage. The home supporters were kept a long way away by a cordon of riot police. Marseille or Red Star ?
Attendance : 13 500; Referee : M. Poulat; Our Verdict: 4.5/5; MoM: Jean-Marc BRANGER.
RED STAR 93: BRANGER - Clément, Mary (Delanoue), Meïté, Thiam (Oponga) - Sirufo, Doukantie, Valéri, Fellahi - Akiana, Mamoun (Saci)

THE SAME OLD STORY
By Guy Lebreton & Pierre Laporte, our correspondents at Thouars

With this result, it appears that Red Star have let slip their last chance of playing a major role in the championship. The afternoon has started well - Beauvais held in check, Martigues beaten by Noisy-le-Sec and Besançon going down on Thursday to Clermont.
But despite these good scorelines, the boys in green failed to capitalise, and continued the bad habits - since Christmas they have failed to find the net in five league matches (Angers, Besançon, Raon, Reims and Thouars). Seven and a half hours without scoring. As Pierre Repellinin pointed out, "The lads played a good match, but not in front of goal".
The Cheminots de Thouars started out well, creating a great opportunity in the first minute and a dangerous free-kick moments later. Red Star forced their way back into the game and Obina narrowly failed to beat the home goalkeeper Astier. But not enough to make a difference. Above all, missing Richard Akiana, out with back trouble the morning of the match.
In the second half Red Star looked the more dangerous. Akim Saci, on for Obina after an hour wreaked havoc in the home defence with four minutes left but completely wasted his shot. So, two points their for the taking gone begging. Overall, an inevitable draw, and perhaps the end of hopes in the Championship.
Attendance : 900; Referee : M. Rebaud.
Thouars : Astier, Stinat, Le Guen, Hervé, Denualt, Sauvaget (Cadu 76), Duarte, Da Silva, Bordot, Maubert, Mussard. Coach. Goudet.
Red Star 93 : Branger, Delanoue, Oponga, Thiam, L. Mary (El Othmani 75), F. Diawara, Doukantie, Valérie, Milton, Mamoum, Obina (Saci 60). Coaches Girard & Repellini.

SO CLOSE BUT SO FAR, by G. Valck


In front of a larger than usual crowd, around the five thousand mark, Red Star came within a whisker of an improbable exploit in the cup. For over half an hour the supporters were hoping to see their heros through to a quarter final place.
In the forty-eighth minute, picking up a Valéri pass helped on by Fellahi, Vincent Doukantie beat Grégory Coupet with a delicate lob and the terraces at Marville exploded !
After a first half dominated by Lyon but without really posing great danger to the Red Star defence, only a fine shot by Anderson and a couple good runs from Dhorasoo and Vairelles brightened the procedings. However, Red Star weren't completely out of it and in particular Saci, Fellahi and Doukantie were a handful for the visitors. But after the break Red Star scored, and Richard Akiana could well have sealed the game but was only inches away from doubling the advantage.
But the star of the show was not one of the big guns but a young apprentice at Lyon, scorer of seven goals in the reserve team this season, Sydney Govou on for Linares in the 54th minute. In just over sixty seconds, with around ten minutes remaining, firstly he got his head to a Pierre Laigle cross and Branger was beaten. From the kick off, Pierre Laigle sent him thorugh and Govou fired home a shot giving the home goalkeeper no chance. Two goals which came moments after the exit injured of Tony Vairelles.
Despite a last-ditch effort from the home side, in perticular with three successive corners, Red Star made their bow from the cup with heads held high.
Now, as mused Benjamin Clément : "We have to look to Tuesday and to Grenoble in the championship. Then is a couple of weeks it's the cup again - the League Cup".

Post match reactions :
Bernard Lacombe : "Red Star haven't got this far on luck alone. We didn't create much in the first half, but a kid saved us the game." When it was remarked that no-one knew of Govou, Lacombe replied "Me, I know him".
As for Pierre Repellini, he paid tribute to his side : "My players have played well, they lifted themselves to Lyons' level, I have to congratulate them, they've given a good impression of Red Star and came so close to qualification".

Attendance : 5000 - Ref : M. Ruffray - Bookings : Thiam, Clément - Vieira, Blanc (2) dismissed 89th minute
Red Star 93 : Branger, Clément, L. Mary (F. Diawara 73), Meïté, Thiam, Sirufo, Doukantie, Valéri, Saci (Mamoum 83), Fellahi, Akiana (Milton 86). Coaches. Girard & Repellini.
Lyon : Coupet, Uras, Fournier, Laville, Blanc, Malbranque (Bak 46), Dhorasoo, Linares (Govou 53), Laigle, Vairelles (Vieira 78), Anderson. Coach. Lacombe.

BACK TO WINNING WAYS By G. Valck
For their return to championship action, Red Star took out their defeat at the hands of Lyon on poor Grenoble. In the space of thirty minutes the match was all but won.
In the third minute, Vincent DOUKANTIE opened the scoring with a vicious free kick. A great start for the side that had failed to find the net since the beginning of 2000. In the 26th minute Karim Fellahi was hauled down the penalty area by the home goalkeeper, who was duly shown the red card. Richar AKIANA made no mistake from the spot. Red Star 93 were by now in full flight and stretched their lead even further when Benjamin CLEMENT rifled home a long range effort past stand-in goalkeeper Milazzo, who had taken the place of Ardouin twixt the Grenoble sticks.
After the pause the boys from Seine-Saint-Denis controlled the pace of the game, with one eye on the important clash at Valenciennes next weekend. Unfortunately Brahim Thiam was shown the red card, so he will miss the trip north.
Spectators : 1 000 - Referee : M. Malige. Bookings : Saci Sent off : Ardouin (Grenoble) - Thiam.
Grenoble : Ardouin - Colaccico (Carrière, 86), Courtin, Milazzo, Yao (Benhamou, 60) - Bertrand, Camacho, Saragaglia, Traoré (Doucende, 72) - Bakadal, Chagnaud. Coach: Michel.
Red Star : Branger - Clément, Oponga, Thiam, L. Mary - Sirufo, F. Diawara (Milton, 72), Doukantie, Fellahi (El Othmani, 60) - Mamoum, Akiana (Saci, 70). Coaches. : Repellini & Girard.

By G. Valck
One of the disadvantages in having a modicum of success in the cup competitions is that every league games tends to become like a cup tie, with opponents wanting to have a go at toppling the cup kings. Plus, given Red Stars' disadvantage in the league, they themselves have to turn in cup-standard performances every match now in order to keep alive their slender hopes of promotion. Add to the mix the fact that the opposition themselves could be battling to go up (Grenoble, Valenciennes) or struggling to stave off the drop (Raon, Thouars) and things are decidedly complicated for Reps' men. So on to battle at the Stade Nungesser, well-filled with three thousand-odd spectators all of which waiting for a return to D2. The key word - promotion and nothing else.
A couple of changes for Red Star, Valéri and Meïté replacing Thiam and Diawara, and Repellini and Girard decided to play with five at the back, Clément, Oponga, Valéri, Meïté and Mary. But the alarm bells were sounded as early as the fifth minute when Branger stuck out a foot to prevent the opening goal. After this moment of panic the game settled down and became more balanced, often suffocated in midfield. But Valenciennes started to gain the upper hand without really threatening the away defence, until the 31st minute, when a mistake by Clément led to Jean-Cyril Bouquet placing the ball wide of Branger.
After the pause Repellini put on El Othmani instead of Clément. A run from Fellahi, a cross to the head of Akiana who placed his header over the bar. The first real chance for Red Star, a chance wasted then perhaps the turning point of the match.
On the hour Saci replaced Doukantie to give a little more pace to the attack. Valenciennes responded by bringing on Piorun and Ferreira. A shrewd move, as from a sixty-ninth minute free kick, playmaker Olivier Pacreu placed the ball wide of Branger. At 2-0, the match seemed to be all over, but Red Star woke up and FELLAHI reduced the score with a header. (1-2). But with six minutes remaining, Valenciennes' Hocine Lachaab barged his way past a defender to score his thirteenth goal of the season. Red Star protested loudly, but in vain and with it went any remaining hopes of getting back into the game.
Attendance 3 000; Ref M. Schaak; MoM : Fellahi - Booked : Meïté, Sirufo & A. Lachaab.
RED STAR 93 : Branger, Clément (El Othmani 46), Meïté, Oponga, L. Mary, Sirufo, Doukantie (Saci 58), Fellahi, Akiana (Milton 85), Mamoum. Coaches. : Girard & Repellini.
VALENCIENNES : Bedenik, Piutti, Massot (Piorum 66), Vion, Dussart, Monchau, J.C. Bouquet, Lebrun, A. Lachaab (Ferreira 66), Pacreu, A. Lachaab (Malheiro). Coach. Batelli.

After five thousand odd against Lyon in the cup, it was back to the faithful five hundred for a league match against Clermont, a team still in with a reasonable chance for promotion. In the end, a goalless draw suited neither, and leaves Red Star with just the League Cup for consolation. Not much to write about, the game fairly evenly balanced, at times edging slightly in the favour of the home side.
In the second half Red Star had the best of chances, all and sundry trying their luck, but each time they were denied by the goalkeeper, the woodwork or some last-ditch defending. Akiana was totally anonymous again, Doukantie at times lethargic in midfield, Saci tried to do too much at once and Fellahi was kept at bay. No real problems for the defence, despite a bright start from the visitors. Voilà, bye bye D2.
Attendance: 500; Our verdict: 2/5; MoM: Karim Fellahi.
Red Star: Branger, Tacalfred, Mary, Meïté, Pizzo (Mamoun), Sirufo, Doukantie, Valéri, Saci, FELLAHI, Akiana. Subs not used; Déom & Delanoue.

Shit ground, very few fans. And those that supported Paris FC have lots of reasons to feel aggrieved: Red Star did to them what so many teams have done to Red Star this season - robbed them of three points. PFC hit the bar, the post, Branger pulled off a couple of saves, then from one of Red Stars' rare attacks, a corner was forced and Karims' short cross to the edge of the box was glanced on by Milton, to the far post where Camille OPONGA powered a downwards header through the legs of a defender and into the net.
Other than that Red Star looked woeful in attack, PFC the more likely to score. Admittedly Red Star did field what could be classed as a second choice XI, but nevertheless the lack of bite of Akiana in attack is worrying.
Another reason for discontentment chez the PFC supporters has to be the stade. We moan at Marville, but compared to tonights' hole we have nothing really to gripe about. For a start, the little stadium with its two "temporary" stands along the sides would struggle to get a Unibond Leage Division One pass, maybe not even a Northern Counties East grading. The worst part has to be the fencing, three metres high, at least, which, given the height of the stands along the sides makes it impossible to watch the game from under cover. The only way is from behind the goals - fine at the near end but at the far end no hard standing, just a grass strip. And if it rains (which it did)...Never again (I hope).
Attendance: 250; Verdict: 2/5; MoM Oponga
RED STAR 93 : Branger, Clément, L. Mary (Doukantie 74), Valéri, OPONGA, Mamoun, Pizzo, Diawara (El Othmani 46), Fellahi, Milton, Akiana.

Well, what a contrast in terms of the stadium to last weeks' Parisian derby ! From the toilet that is the Porte de Montreuil to arguably the finest stadium in Europe. Chalk and cheese. Anyway, on a bitterly cold Tuesday evening, Red Star came out tops in a game they could ill afford to lose. You just don't blow your big night out, and although Racing came mighty close to being party poopers, the woodwork of one of the goals at the Stade de France and Richard Akiana saved the day.
After a nervous opening from both sides, it was Red Star who took the lead on twenty minutes. A speculative cross from Vincent Doukantie was helped on by Richard AKIANA and his effort passed just under the bar and into the net of the hapless Lafon. The goal shook Racing from their slumbers and they proceded to take the game to Red Star. On twenty seven minutes, a beautiful through ball caught the defence napping and Lipka was on hand to slide the ball past Jean-Marc Branger. Perhaps a hint of an error from the Red Star custodian, but nevertheless some questions about the organisation of the home defence.
Red Star just about hung out until the pause, although dominated by Racing, the goal was rarely threatened. After the pause a different story, although the game hinged around two key issues. Girards' men should really have buried Racing, given the number of chances they had. Karim Fellahi wasted two glorious chances when put through by Doukantie and Saci, and Lafon in the Racing goals produced at least five magnificent saves to deny the rampaging Red Star forwards.
The two turning points came within minutes of each other. Firstly on a rare Racing attack, a cross-cum-shot was deflected onto his own post by captain Fabien Valéri with Branger wrong-footed, then minutes later Red Star counter-attacked and with Racing unable to clear their lines Richard AKIANA popped up to poach a strikers' goal, sliding the ball into the net after a mistake by Lafon.
Another win, but is it a question of too little too late ? Afterwards the triangular tournament dragged on a little. First up, the lovely Larusso kicked off the game between the Ivory Coast and Athletic Bilbao, won by the Spaniards 2-0. The Africans looked cold, nervous and ill at ease against a forceful Basque outfit. In the second game they relaxed, however and played their natural "Beautiful Game", winning 1-0 against Saint-Etienne. Sublime skills, wonderful gifted youngsters, breathtaking in attack but woeful in defence is an accurate description of the Ivory Coast Olympians. Saint-Etienne won the thrid game 2-1 against Bilbao, scoring two of the best goals of the night in the process, the first a magnificently crafted goal with a superb volleyed finish from the Brazilian Aloisio. The Bilbao goal effectively meant that the Basques of legend Luis Fernandez carried off the trophy for the tournament.
Attendance: 30 000; Ref; M. Chat; Our verdict: 4/5; MoM. Fabien Valéri
RED STAR: Branger, Tacalfred, Mary, Meïté, Thiam, Sirufo, Doukantie, VALERI, Saci (Mamoum), Fellahi, Akiana.
National Week 32
Pau 7/4/2000
BLACK WEEK By G. Valck
In less that five days, Red Star have gone through misfortune, firstly a League Cup k-o then defeat at Pau. The second because of the first, no doubt, being sapped both morally and physically (two hours, a penalty shoot-out all in driving rain).
Remarkably Red Star had got off to a good start, Brahim THIAM heading home the opening goal after half an hour following a free-kick. However the Palois, with fresh legs killed off Red Star with goals from Becas (56) and Avezac (70th). Any last vestiges of promotion thus disappeared in the Pyrenees. Unless Red Star can string together seven straight wins, it has to be said that we'll have to wait until next season to get out of the National.
Attendance : 2 000 - Referee : M. Viléo - Bookings : Sallaberry (3), Paviot (90) - Akiana (21), Valéri (43), Tacalfred (62).
PAU : Giudicelli - Sallaberry (Noclin, 80), Turpin, Gibert (Bathie, 23), Paviot, Delmas, Bedani, Vuksanovic, Becas, Baylac, Avezac (Chapet, 75). Coach : P. Plancque.
RED STAR 93: Branger, Tacalfred, Meïté, Thiam, Mary, Pizzo, Doukantie (Fellahi, 63), Valéri, Saci, Akiana (Mamoum, 70), Milton. Coaches : P. Repellini / J.-L. Girard.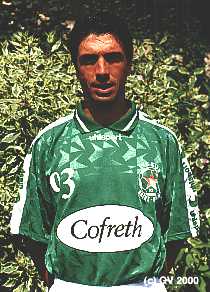 National
Stade Marville 11/4/2000
WHAT A LOAD OF RUBBISH
Red Star served up some dire claptrap tonight in front of the two hundred who had bothered to turn up. They were in the game for the first twenty minutes, when it seemd that an avalanche of goals was inevitable against a poorly-organized defence with no attacking potential whatsoever. But, Istres somehow weathered the storm and after a couple of close escapes when Doukantie then Fellahi went close, managed to take the lead with a goal scored from a miles-offside position. Just before the break, too and worse still only the woodwork saved Red Star from further humiliation.
After the break it got worse - Red Star forgot completely how to play football, and with David Guion (pictured) and his team-mates in the lead, there was no way that Istres were going to give the points away. Obina, hopless, was substituted, but too late. Midfield produced nothing, and even Karim was subdued. Doukantie was the best hope of getting something out of the game, but with Akiana not interested and technically incompetant, no chance. Tacalfred looked out of his depth, Fabien Valéri had lost his touch, and Oponga looked shaky at times.
A match to forget. As for Istres, they certainly don't look promotion material, compared to Martigues and Angers. A decent National side of anything. Now to the kick-off time. Whatever possessed the club to make it a six o'clock kick-off I will never know. Still, incompetant match organisation corresponds perfectly with the incompetant on-field display. Once again, the club does its utmost to test the already-strained patience of the Faithful. Don't they want a big club ? Last point - use your f*****g subs, Repellini !
Attendance : 200 - Referee : M. Sergent. Our Verdict: 0/5; MoM BRANGER.
RED STAR 93: BRANGER, Tacalfred, Sirufo, Oponga, Thiam, Pizzo, Doukantie, Valéri, Obina (Mamoun), Fellahi, Akiana. Not used; El-Othmani & Milton.
National Week 33
Stade Marville 15/4/2000
At the end of this match, coach Pierre Repellini said "I've got my team back, the freshness has returned and no doubt that with a few more days rest and recuperation we would have beaten Pau and Istres."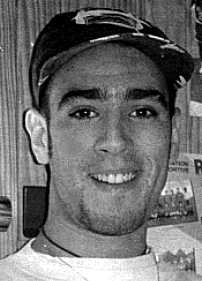 Too true, Rep. Anyway the match was won after ten minutes. Karim Fellahi swung over a corner and Vincent DOUKANTIE powered home a finely directed header, no doubt appreciated by the watching delegation from Caen FC. Ludo Mary should have doubled the lead moments later, revealing a hidden talent and firing a piledriver of a free kick which the away goalie could only parry away. From anothe corner Red Star did succeed in effectivele putting the game out of Evry's reach. This time DOUKANTIE bent his flag kick neatly inside the near post despite the efforts of a defender stood on the line. The visitors could hardly muster an attack, typical of a side with a foot in the CFA. Ex Red Star man Farès Bourdache (photo) did rap the knuckles of Branger, but that was all.
Richard AKIANA found the net with a typical Akiana goal, bundling the ball over the line following good work by the energetic Fellahi. Evry staged a mini-revival, pride coming into the equation, and some absenteeism defending by Red Star almost helped their cause. Finally the match petered out to its conclusion, watched also by a contingent of travelling West Ham supporters John, Neil & Jason. Cheers, lads !
Ref: M. Lecellier, attendance 400, Our verdict: 3/5, (we won); MoM: Doukantie.
RED STAR 93 : Branger, Tacalfred, Meîté (Thiam 68), Oponga, L. Mary, Doukantie, Valéri (Sirufo 84), Akiana (Lestic 73), Fellahi, Saci. Coaches: Repellini/Girard.
EVRY : Magniez, Bilamba, Rodriguez, Bonelli, Hardiagon, Thodiard (Corti 57), Lenfant, Darsoulant, Bourdache (Hernandez 57), Hebreu, Boussam (De Ketrlaere 57). Coach Touret.
National Week 34
Stade de Pacy-Menilles 21/4/2000
The nearest equivalent to sheepshaggers, Pacy-sur-Eure. A village club with a ground to match - pretty but in no way a third division ground. This one would almost certainly fall foul of the Northern Premier League ground grading comittee. At least there was no ten foot high fence, as at Paris FC, so one was very close to the action and the view was pretty good, but for the spectators who elected to stand, God help if it rains ! There are just two "TinCan" stands, capable of holding 200, no cover at all for the standing spectators.
So, on a quagmire of a pitch which reflected the quality of the car park outside, Pacy got the game underway. Impossible to play football - a team like Red Star used to playing the passing game on a lush billiard-table surface like Marville was never going to get to grips with a bog like that. Uneven bounces, wild tackles and a partisan crowd, all the ingredients required for a Red Star away defeat. Everyone wants to beat the League Cup giantkillers and Pacy were no exception.
But Red Star obviously hadn't read that script, because they took the game to Pacy and for the want of a decent striker the game could have been all over by half time. Big Tone would be in his element here - roughing it with the defence, and with a decent selection of crosses could have bagged a hatful. Akiana isn't made of the same stuff, however, and was largely anonymous. So half time arrived at nil-nil. The game didn't really get going until the introduction midway through the second half of local boy Aziz Belissaoui for Red Star. The ex-Pacy player firstly gave the ball away and Pacy raced away down to the other end and all but put the ball in the net, Branger saving then Valéri hoofing the loose ball to safety. Moments later Aziz broke away down the right, looped over a cross which the inept Akiana missed completely. Shortly afterwards Fellahi curled a free kick to the far post, Aziz rose majestically to slam a header against the bar, but as he fell, broke his arm after being on the pitch for only seven minutes.
Then followed ten minutes of madness. On a rare Pacy attack, Sylva found some space on the right, crossed for El Hajri to put the ball past Branger. The locals went wild as if they had won the League Cup. Minutes later Pacy mounted yet another attack, and with Sirufo as last defender, a Pacy forward was brought down and the referee brandished his red card at Sirufo. Again the locals celebrated, very sportingly.
But their joy was to be short lived, as Red Star saved their face as well as a point. From a Fellahi free kick, either El Othmani or Milton rose to head the ball home at the far post. (Le Parisien said Milton, but from where we were standing it was hard to tell.) Whoever scored, it was to be the last action of the game and wiped the smug grins off the faces of the locals - they don't have too much to celebrate round here, footballing wise.
Pacy have virtually booked their place for next season in the National, unless the league finally wake up and boot them out due to not having a decent ground. Finally, to the racist Pacy thug who suggested that the referee should go back home to his country - piss off, we don't need that in football, go back to your sheep, you cretin.
Attendance: 1000, shit ground smug fans; Referee: M. Khendek; our verdict 2/5; MoM: Valéri.
PACY-SUR-EURE : Bisson, Sylva, Denoyers, Kpuakoua, N'Tounou, Larcier, Jenni, Savoye (Bechkoura 64è), Edouard, El Hajri, Hameau (Viimbouly 88è). Coach. Hatton.
RED STAR 93 : Branger, Delanoue (El Othmani 55), Meïté, Thiam, L. Mary, Valéri, Sirufo, Doukantie (Belissaoui 70 then Milton 77), Fellahi, Akiana, Saci. Coaches. Girard & Repellini.
National Week 35
Stade Marville 29/4/2000
SIX GOAL DERBYG. Valck
The battle of Seine-Saint-Denis shared the spoils in an entertaining three-all draw at Marville. Red Star started on an optimistic note, Doukantie and Saci both having good efforts on goal, and Karim Fellahi was having the upper hand over his marker. Unfortunately a blow to the nose put an end to Karims' contribution, a loose elbow resulting in an early exit and several stiches.
With Red Star down to ten for a few minutes, Noisy profitted from the numerical superiority and Robert opened the scoring. DOUKANTIE redressed the affair shortly after with a fine free kick (24 minutes). However, just before the break from another free kick, Brahim Thiam deflected the ball into his own goal. Doukantie should have equalised with a powerful drive, but Chauray made a fine save.
With the game restarted after the interval, SACI, with the help of Noisy defender Tchana made the score 2-2. From then on Red Star dominated the proceedings, and Ludovic MARY thumped home a twenty yard volley to give the advantage to Red Star. With four minutes remaining Noisy centre-back Tchano headed home a corner to complete the scoring and to earn his side a point.
Referee : M. Fautrel - attendance 600 - MoM : Doukantie - our verdict : 2/5
RED STAR 93 : Branger, El Othmani (F. Diawara 83), L. Mary, Oponga, Thiam, Pizzo, Doukantie, Valéri, Saci, Fellahi (Milton 14), Akiana.
NOISY-LE-SEC : Chauray, Djouadi, Lablack, Tchana, Llazid Sandjak, Emery, Tran, Koukène (Bouembassa 74), Guizonne (Hebbar 61), Robert, Lanis Sandjak.
National Week 36
Martigues 5/5/2000
MARTIGUES PROMOTED By G. Valck
A difficult end to the season, with nothing left to play for, Red Star fell to Martigues looking for one point to assure themselves of promotion to D2. And that they did, thumping their hapless visitors 3-0.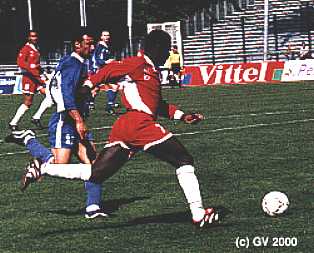 Making his debut for the long trip to Provence was 22-years old Arthur Gomis (see photo), normally scoring goals in the reserves in CFA 2. Despite this injection of new blood, Martigues opened the scoring and wrapped up the game in a space of four minutes, with goals from Aït-Atmane (23) and Borios (27). Thus followed the thirteenth defeat of the season. On the hour Ludo Mary received his second yellow card and thus made his way for the early bath. With fifteen minutes remaining, Lestic and Diawara got an outing, but in stoppage time a glaring defensive error let in the ex-Parisien Bruno to notch the third goal and to start the celebrations for the 1500 spectators.
Referee : M. Rebaud - Bookings : Bekrar (53), Borios (63) - Mary (45 & 63) - Saci (77)
MARTIGUES : Padovani, Borios, Frapoli, Diccccanot, Firly, Békrar; Aït-Atmane (Kara 28), Tamazout, C. Rémy (Aït-Ouarab 75), J. Rémy, Davezac (Bruno 82). Coach Guendouz.
RED STAR 93 : Branger, Clément, Oponga (Valéri 56), Meïté, Thiam, L. Mary, Pizzo, A. Gomis, Doukantie (Diawara 77), Akiana (Lestic 77), Saci.
National week 37
Stade Brisson, Beauvais 13/5/2000
IN MEMORY OF "PIERROT" By G. Valck
The hundred or so Red Star supporters looked slightly lost in the stands at Pierre Brisson, Beauvais on Saturday. So, the minutes' silence for recently deceased Parisien journalist Pierre Marcus was easily respected.
Under a heavy sky, the match got off to a slow start. Ajaccio dominated slightly in the first period, but Saci had the most clear-cut chance on 25 minutes. Just before the pause, however, a long ball was pumped up to Gomis, only to see the Red Star forward hauled down in the penalty area by away goalkeeper Genty. Referee M. Duhamel pointed to the spot, and AKIANA wrong footed the hapless miscreant.
Brangers' goal came under siege in the second half, in particular One fine reflex save from substitue Kone. Saci was replaced by Lestic just after the hour, and it was a cross from Lestic, finding AKIANA, which enabled Red Star to wrap the game up in the 69th minute. Repellini uncharacteristically made a second substitution, bringing on Damien Déom for Milton, but two minutes is insufficient !
Att. 100; ref: M. Duhamel Bookings : El Othmani - D'Amore, Léonetti.
RED STAR 93 : Branger, El Othmani, F. Mary, Oponga, Thiam, Pizzo, Doukantie, Milton (Deom 89), Saci (Lestic 65), Akiana, Gomis.
GFCO AJACCIO : Genty, Pardeihan (Cau 56), Destruhaut, Turudija, Wayaridri, Luccini (Bernaud 62), Léonetti, Courtois (Kone 46), D'Amore, Sow, Forest. Coach: Cavalli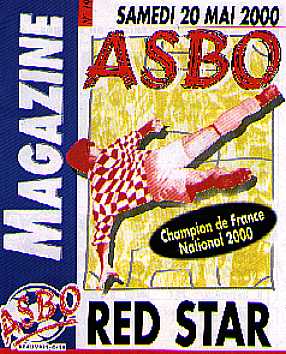 National Week 38
Stade Brisson, Beauvais 20/5/2000
BEAUVAIS, DESERVED CHAMPIONS By G. Valck
Beauvais, league champions showed why with a victory over Red Star 93. Before a good crowd, Beauvais waited only six minutes before opening the score with a 20-yard drive from De Freitas, beating Branger hands down. On twenty minutes, home goalkeeper Levet pulled down Milton in the penalty area, but no penalty was given. After the break, Akiana, suffering with back problems was replaced by Lestic. But, a good build-up in midfield released Lecocq who made no mistake and made the score 2-0 in favour of Beauvais. Red Star were then stirred into action, and Deom replaced Saci. Lestic, from down the right lost his marker and his cross was met firmly by MILTON, who beat Levet and reduced the score (72). Too late, however, and coacj Bonnevay received the trophy for winning the league.
Attendance: 3 500; Referee : M. Brizou; Bookings : Milton.
BEAUVAIS : Levet, Zebre, Sanz, Moulin, Fischer, Delpech (Dufour 77), De Freitas, Savine, Diani, P. Sampil (Lecocq 66), Florentin (Girard 66). Coach. Bonnevay.
RED STAR 93 : Branger, Sirufo (Meïté 79), F. Mary, Oponga, Thiam, Pizzo, Doukantie, Milton, Saci (Deom 70), Akiana (Lestic 46). Coaches Girard & Repellini.